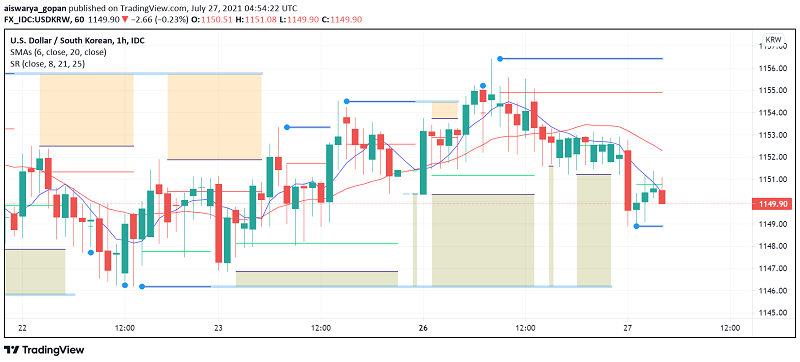 South Korea's Q2 2021 GDP Soars, But Misses Expectations
The South Korean economy posted its fastest growth seen since a decade during Q2 2021, supported by an improvement in private consumption, although the latest resurgence of COVID-19 infections continues to drive uncertainties in its outlook. According to data released by the Bank of Korea, the nation's GDP came in at 5.9% YoY in the second quarter of the year, coming in far better than the previous quarter's growth of 1.9%.
However, the GDP came in slightly below economists' forecast which was for a reading of 6%. While a significant portion of the sharp growth seen in Q2 came on the back of the low base reading from last year, robust trade activity as other key trade partners saw their economic activity levels surge after easing lockdowns and restrictions.
Exports out of South Korea climbed higher by 22.4% YoY during Q2 this year, although on a quarterly basis, exports were lower. Exports contracted by 2% QoQ during the second quarter of the year, indicating that the sharp rebound may be stabilizing.
Meanwhile, private consumption and government expenditure – the other two key contributors to the economic growth in South Korea, rose by 3.5% QoQ and 3.9% QoQ, supporting the GDP. The government is planning to roll out more initiatives valued at over $30 billion to boost domestic consumption levels by extending support to those most affected by the latest round of restrictions.
Head of the statistics department at the BOK, Park Yang-su, observes, "We record exports in volume terms, not in terms of value, which should help explain the slight decline in exports, as export prices have been increasing quite a lot. Also, a shortage of chips for cars also dragged production."
Impact on the Korean Won
The USD/KRW is experiencing somewhat choppy trading after posting a decline a few hours ago. The release of the GDP figures have failed to drive much movement in the Korean won, with forex markets focusing on the US dollar and the upcoming FOMC meeting at the moment.
At the time of writing, USD/KRW is trading at around $1149.90.