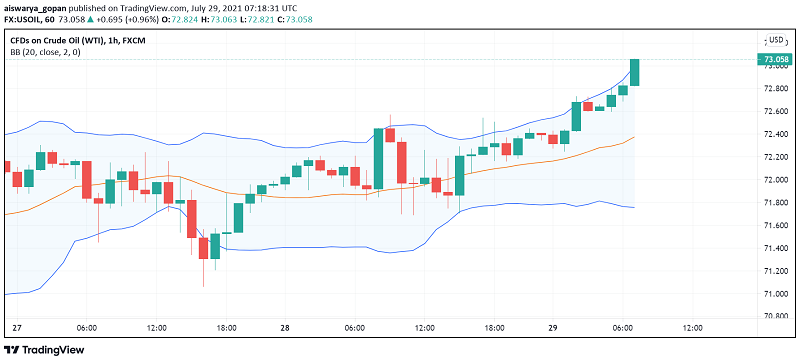 WTI Crude Oil Sees Slight Dip Despite EIA's Optimistic Report – What's Happening?
WTI crude oil prices have experienced a slight dip into Thursday but continue to hold close to the $73 level, supported by a sharp fall in US crude inventories over the past week. At the time of writing, WTI crude oil is trading at around $73.05 per barrel.
The EIA report which released during the previous session gave oil traders much to cheer about, showing a drop of 4.1 million barrels in crude stockpiles across the US. Not only was the decline greater than economists' forecast for a 2.9 million barrel drawdown, but it also brought down total inventories to the lowest levels seen since January 2020.
Crude oil prices enjoyed further support from a decline in gasoline inventories, which are now holding close to levels seen before the beginning of the COVID-19 pandemic over a year ago. The figures reassured markets that despite an uptick in fresh COVID-19 cases, oil demand continues to remain strong across the world's largest energy consumer.
However, traders still worry about the impact of the latest round of lockdowns and restrictions across other parts of the world and what that could do to oil demand. According to latest estimates by analysts, global oil demand would take longer to rebound to pre-pandemic levels, possibly even beyond 2022 if more waves of infections and slow rollouts of vaccines weigh on economic recovery.