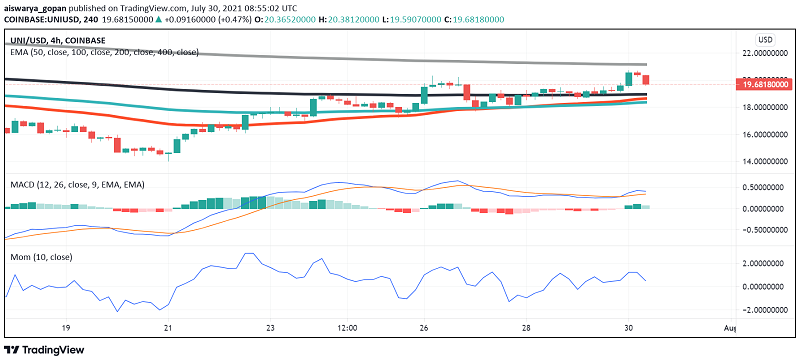 What's Driving the Rise in Uniswap (UNI) on Friday?
The DeFi leader Uniswap (UNI) is seeing its value rise early on Friday, extending gains registered over the week, over enthusiastic demand for DeFi projects and market expectations for more efforts towards mainstream adoption within this ecosystem. At the time of writing, UNI/USD is trading at around $19.68.
The strength in the UNI token has been driven by an upbeat mood among investors towards the crypto market in general, especially with market leader Bitcoin holding just under the key $40k level. As the cryptocurrency with the largest market cap, moves in BTC often sway the mood towards other crypto assets, including Uniswap.
Uniswap is also been in the limelight lately over the continued popularity and growth in the DeFi sector despite cryptocurrencies trading bearish during the past few weeks. Investors maintain their interest in DeFi projects even as innovation towards creating and launching new applications on Uniswap and other DeFi platforms continues to rise.
Recently, at the EthCC, a video showing a talk by Uniswap's growth lead, Ashleigh Schap, indicates discussions between the company and mainstream fintech companies, including Robinhood, E*Trade and even PayPal. Robinhood, which has recently gone public, has been in talks on how to use Uniswap's technology for automatic settlements of trade instantly with their users.
Recently, DeFi startup Optimism launched its L2 scaling solution for Uniswap to help projects developed on the protocol enjoy lower transaction costs even as the usage of the platform and the underlying Ethereum network rise. This development makes the recently launched Uniswap V3 more attractive as a DeFi protocol going forward.
Key Levels to Watch
As we can see on the 4-hour chart of UNI/USD, moving averages as well as the MACD indicator are signaling a strong bullish bias among investors at the moment. However, the momentum indicator points to the presence of sellers looming as well.
The price is sitting above the pivot poin at $17.08 although it has slipped below the first resistance level at $20.15 a short while back. An increase in buying pressure can send Uniswap's price back up above this level and possibly towards $22.01, where the next resistance level is holding.