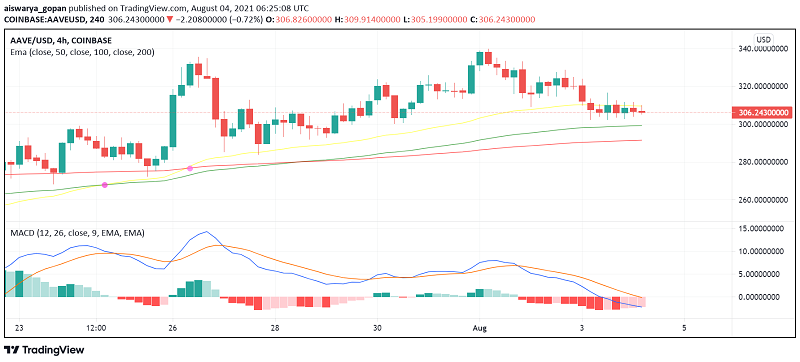 Why We Should Be Bullish About AAVE in the Long Term
Popular DeFi protocol Aave (AAVE) is trading mostly steady into Wednesday, after experiencing some choppy action a few hours ago, but offers several promising reasons for investors to be bullish in the coming sessions. At the time of writing, AAVE/USD is trading at around $306.
As the largest multi-chain DeFi lending platform, AAVE enjoys a TVL of over $13 billion as per latest data by DeFi Pulse, growing by $3 billion in the past 10 days, highlighting the growing interest in the DeFi space among investors lately. In addition to retail investors turning towards DeFi, the ecosystem is also attracting several institutional investors, which can further bolster the uptrend in AAVE going forward.
Aave has recently announced a rebranding of its offering for institutional investors, from Aave Pro to Aave Arc – a platform that will allow institutions to invest in the DeFi space. It will offer private pools for them to enjoy direct exposure to digital assets, giving them access to DeFi yields even as they experience the advantages of transparency and automation that the ecosystem stands for.
The platform is also working to create a decentralized social network that can take on Twitter which will let users earn money for interacting and posting on it. The solution will run on Ethereum's blockchain and leverage smart contracts, and although its launch date is yet to be confirmed, its release could spur greater adoption of Aave and drive up the value of its token higher.
One more feather in the cap as far as this DeFi protocol is concerned is the attention that billionaire investor Mark Cuban has shown in it. Cuban has, in the past, praised Aave in his blog for its decentralized system of lending to users via smart contracts.
Key Levels to Watch
In the near-term, the 4-hour chart of AAVE/USD has most of the smaller moving averages as well as leading technical indicators MACD (green) and momentum (red) signaling a bearish bias. Although, the larger timeframe MAs are flashing buy.
Aave's price is holding just below the pivot point at $313 but is comfortably above the immediate support level which can be found at $287. Increased buying interest can see the token rise above the pivot point and make its way higher until encountering resistance at $343.
Cryptocurrencies were showing strong bullish pressure in the first two months of 2023, but the bullish momentum has faded
2 weeks ago