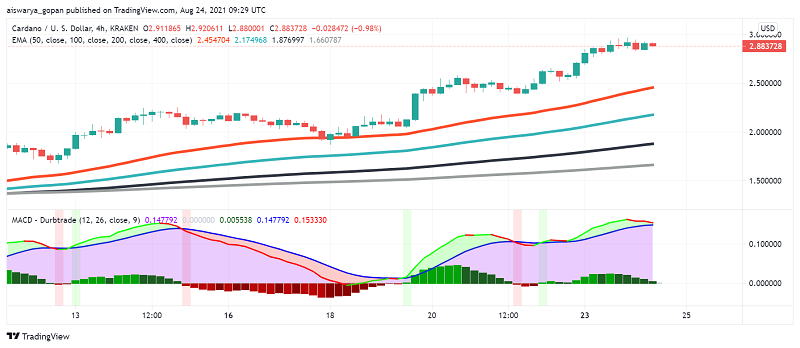 Cardano (ADA) Makes Its Way Towards $3: Good Time to Buy?
Cardano is turning into one of the most exciting cryptocurrencies to invest in right now, especially with the momentum building up ahead of its major upgrade that will roll out smart contract features on its blockchain. At the time of writing, ADA/USD is trading at around $2.88.
According to a recent report by CoinShares, Cardano was the second most popular crypto asset to receive institutional inflows over the previous week, next only to Solana which had also surged to an ATH last week. Of the total inflows into crypto assets valued at $21 million over the previous week, institutional inflows into Cardano touched $6.4 million.
Meanwhile, the blockchain's native token ADA also received some support from its co-founder Charles Hoskinson's latest update, in which he discussed how Cardano stands apart from its competition due to its peer review process. The network's focus on catching and resolving bugs before rolling out functionalities has come under criticism several times but he pointed out that others' 'first-to-market' decision has backfired several times as well.
Although Cardano's price has eased lower after touching an ATH of $2.95 in the previous session, a leading crypto analyst Tai Zen has shared a strongly bullish outlook for the world's third largest cryptocurrency. According to him, once ADA breaks above the $5 mark, it can soar towards $10 and even $20 in a shorter span of time as interest in it will rise substantially.
Key Levels to Watch
Technical analysis of the 4-hour price chart of ADA/USD reveals a strong bullish bias among moving averages and the MACD. Although, the momentum indicator does point to some interest among sellers as well.
Cardano's price is well above the pivot point at $2.43 and all factors point to the uptrend continuing beyond the ATH. Further buying pressure can see traders test resistance at $2.99 before breaking past the key $3 mark soon.