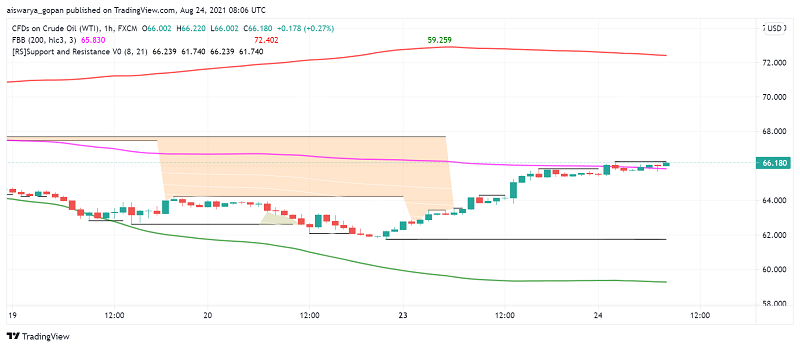 WTI Crude Oil Picks Up as Market Sentiment Improves
Early on Tuesday, WTI crude oil is trading bullish as traders cheer the news of the US FDA granting full approval to Pfizer/BioNTech's COVID-19 vaccine, expecting this development to increase vaccination rates which could help contain the pandemic and drive up oil demand. At the time of writing, WTI crude oil is trading at around $66.18 per barrel.
During the previous session, US oil prices surged by over 5%, posting a solid turnaround after posting the sharpest weekly decline seen in over nine months during the past week. Crude oil's climb on Monday was powered by the steep decline in the US dollar's value, helping make it more affordable to purchase for holders of other currencies.
In addition, investors are hopeful that the full regulatory approval can convince Americans who were so far hesitant about getting vaccinated against COVID-19. An increase in vaccination would help bring down infection rates as well as the severity of the pandemic, reducing the likelihood that the US government would need to impose more restrictions which could hurt economic activity as well as oil demand.
Crude oil prices received additional support from expectations that crude stockpiles could have posted a decline for the previous week, a sign of robust oil demand across the world's largest energy consumer. According to economists polled by Reuters, crude inventories are likely to have dropped by around 2.4 million barrels over the previous week, marking the third consecutive week of declines.
Looking ahead, in addition to inventories' data from the API and the EIA, oil traders will also keep an eye on news related to the spread of COVID-19 infections worldwide as well as the overall market sentiment. Any positive news indicating that the latest spike has had minimal effect on economies worldwide will keep oil prices supported.