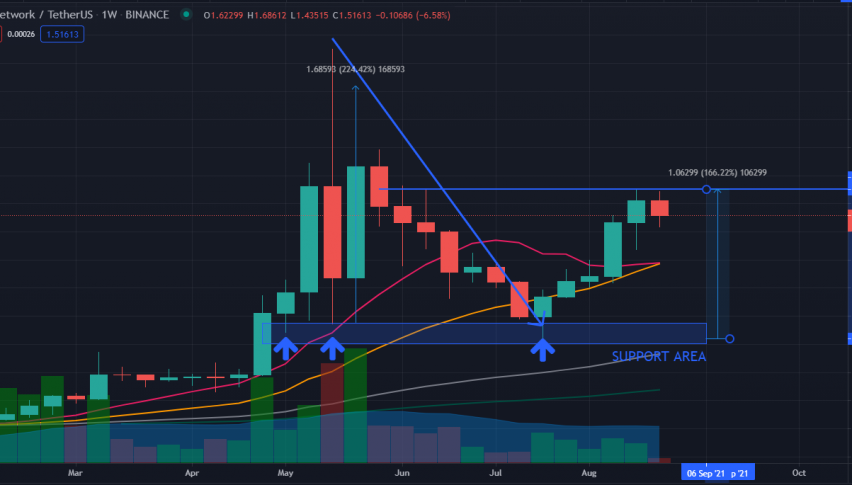 Polygon (MATIC): Is it time to sell?
*MATIC: Weekly Timeframe – Slows down after 5 straight green weeks, 160+% gain from July lows
The overall cryptocurrency market has been a bit choppy lately, after Bitcoin (BTC) briefly traded above the major resistance level of $50,000 a few days ago. Ever since then, the market has been mixed for cryptos, as bottom-fishing traders started cashing out their profits on several coins that had rallied from previous support lows. This also includes MATIC, which corrected for the first time in 6 weeks of rallying.
REVIEW on the Previous MATIC Trade Idea:
This is a follow-up to a previous call made regarding MATIC. Congratulations if you were able to follow the bullish continuation trade idea a few weeks ago! You would have already made a handsome profit, as MATIC indeed reached the indicated short-term and mid-term targets of 1.40 to 1.66, gaining 40+% from the initial buy trigger point.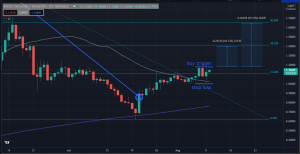 *MATIC Trade Idea from August 10, 2021
Just as a review, here is the trade summary from the article: "Polygon (MATIC): The Bulls are Back".
Buy:              1.18 to 1.20 (buy the continuation)
Target:         1.40 (short-term target, 38.2% Fib.)
1.60 to 1.66 (mid-term target, 50.0% Fib.)
Stop loss:    1.00 (nearest support)
VAR:            1.00 (risk only 1% of your portfolio for this trade)
Hopefully, you were able to heed the trade summary and do a partial sale at the target profit areas. Right now, you should have sold at least 25-50% of your positions already, and should just be holding your core position with a stop-loss moved to your breakeven point (at around 1.20+).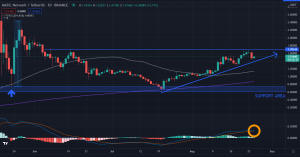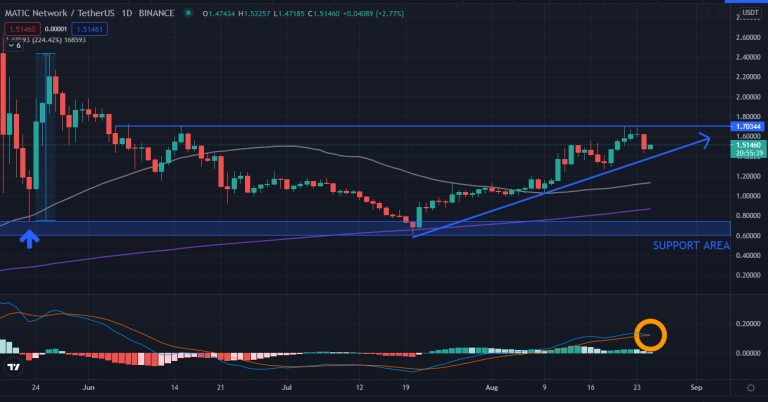 *MATIC Daily timeframe correcting but short term uptrend still intact
Where is MATIC going from here?
Looking at the daily timeframe, my bias is that MATIC would consolidate first after the V-shape rally from the support area. I would reiterate that MATIC has one of the stronger and more resilient-looking technical charts compared to other altcoins as it has never fallen below its 200-day moving average unlike most coins did. As such, I believe MATIC is has a good potential of reaching new highs later this year.
However, MATIC is showing a slowdown of the rally. This is understandable as it has already run up and more than doubled its price in less than 2 months. It still has not broken down its short-term uptrend line – yet.
The MACD indicator could cross down if the correction continues in the next few days. If this happens, expect MATIC to consolidate further with 1.20 acting as a dynamic support (50-day moving average: gray line). Watch out if it falls below this level, as it could fall deeper towards 1.00 and even toward the previous support area. Put your final stop loss at 1.20.
Currently, the best thing to do is watch and risk manage your positions. The crypto markets have run up wildly in the past weeks and it needs to cool down first and consolidate before resuming its uptrend. Best to pick your positions, be patient, and wait for the next best setup. Remember to protect your profits!