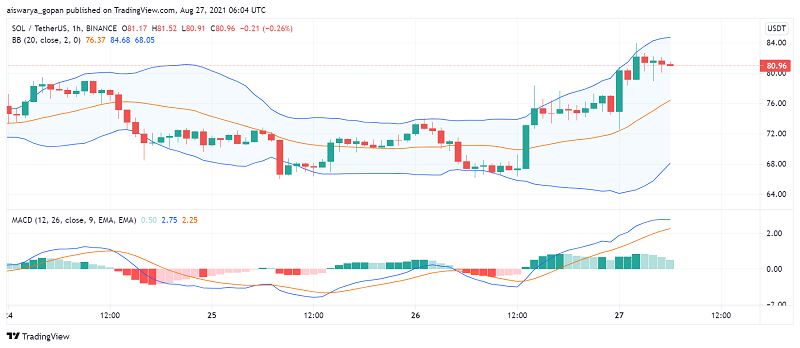 Solana (SOL) Trades in the Green Even as Crypto Market Sees Red
Amid a sea of red in the wider crypto sector, Solana (SOL) is on the rise and registering daily gains as it heads towards its ATH once again, as the blockchain garners more attention among DeFi projects and dApps. At the time of writing, SOL/USDT is trading at around $80.96.
Powering the rise of SOL in a market that is trading bearish at the moment is the announcement of Pyth Network delivering real-time institutional grade market data to DeFi apps using the Wormhole bridge, allowing communication between apps on the Solana blockchain and those on Ethereum, Binance Smart Chain as well as on Terra. This development is likely to entice more DeFi projects to join the Solana ecosystem and take advantage of its high transaction processing speeds and low costs.
As more blockchain networks emerge in the market, interoperability is going to be the next big focus area. At present, Ethereum retains the lion's share of the DeFi market but is fast losing its sheen as new players like Solana tout greater scalability and efficiency, and enhancements in the interoperability space will make it more attractive for developers as well as users, supporting its rise in the coming months.
Pyth Network is a decentralized, cross-chain oracle that is excited about its latest collaboration with Solana. According to the market data provider, Solana's network can handle transactions at the same speed as Nasdaq, making it an exciting option which can merge the best of decentralized finance with that of traditional finance.
Key Levels to Watch
Technical analysis of the H4 price chart of SOL/USDT reveals a strong bullish bias among the moving averages as well as the MACD. Although, the momentum indicator points to some interest among sellers at the moment as well.
Solana's price is well above the pivot point at $69.01 and it looks like buyers are getting ready to take it to a new ATH until they encounter resistance at $85.76. A break past this level can see SOL rise towards the $100 level, but traders need to watch out for the second resistance at $98.75 before this happens.