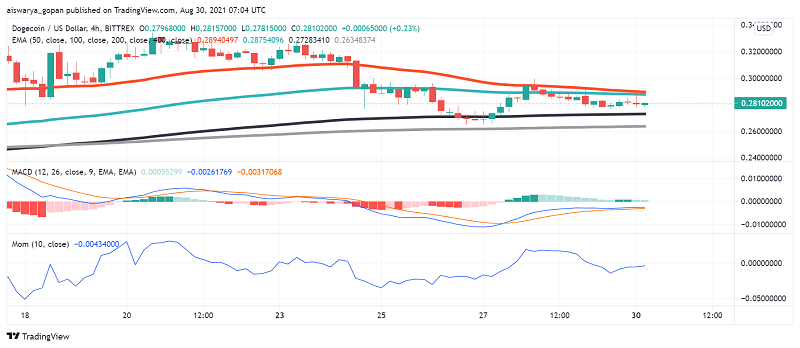 Dogecoin (DOGE) Extends Weekend's Bearish Mood, But Update Offers Hope
Dogecoin (DOGE) is experiencing muted trading, sliding lower and holding below the $0.30 mark on Monday and down by over 12% for the week. At the time of writing, DOGE/USD is trading at around $0.281.
The weekend trading was not kind to the leading memecoin, sending it lower despite the bullish mood that drove other cryptocurrencies higher. It looks like investor focus is shifting towards digital currencies with greater promise and use cases beyond merely transactional, especially amid the ongoing DeFi and NFT craze. As a result, memecoins like Dogecoin seem to be losing the spotlight to cryptos like Cardano and Solana lately, even among newer investors.
The Dogecoin Core update remains in focus, which could offer some respite from the bearish mood in the coming sessions, as it promises improved synchronization speed and fee reduction. Over the weekend, DOGE developers called out to the community to increase adoption of this latest update, titled 1.14.4, which is the first of a two-part update that can bring down gas fees from the present rate of 2.44 DOGE to 0.01 DOGE – a move that can make the crypto more attractive to users.
Popular crypto analyst and trader who goes under the pseudonym Kaleo has also shared a bullish outlook on Dogecoin even as it slides lower lately. Based on technical analysis, he anticipates a rally that can take it more than 30% higher than its current levels against crypto king Bitcoin.
Key Levels to Watch
On the 4-hour price chart of DOGE/USD, moving averages are exhibiting a strong bearish bias at the moment. However, leading technical indicators MACD and momentum signal some buying interest as well.
Dogecoin's price is holding just below the pivot point at $0.291 and we need to keep an eye on the immediate support level at $0.255 which could be tested in case of more selling pressure. In case buyers step into the game, we could see DOGE rise above the pivot point and head back above the key $0.30 level until the first resistance is encountered at $0.318.