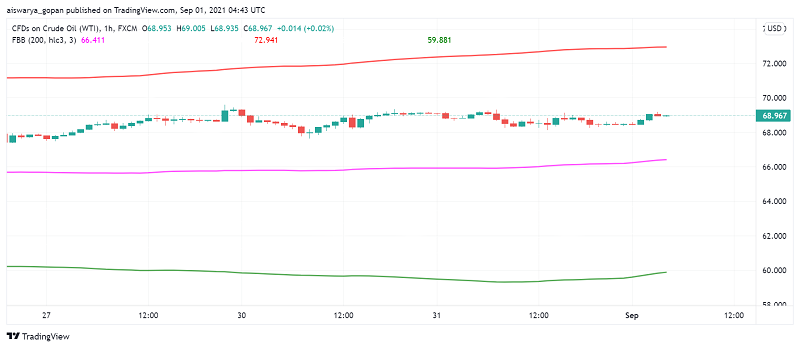 WTI Crude Oil Steady as Traders Wait For OPEC+ Supply Decision
WTI crude oil prices are holding steady on Wednesday as investors await the outcome of the OPEC+ meeting when leading oil producing nations could decide on managing oil supply amid the latest spike in COVID-19 infections worldwide. At the time of writing, WTI crude oil is trading at around $68.96 per barrel.
OPEC and allies are scheduled to meet later in the day to review whether to go ahead with their previous plan to increase oil supply gradually by 400k bpd each month until December. The uncertainty regarding their plans has been driven higher on the back of the rising coronavirus cases due to the spread of the delta variant, which has once again hampered economic activity in several parts of the world.
Expectations are that the leading oil producers of the world will agree to push ahead with the plan to increase supply into the global market. According to reports on Reuters, they will stick with their decision to raise oil production by 400k bpd each month despite the US pressuring them to increase supply even more to offset the rising crude oil prices.
Crude oil prices also received support in the aftermath of Hurricane Ida which has caused US's refining capacity to drop by 13%, as refiners in Louisiana still remain shut after the storm. Meanwhile, in the Gulf of Mexico, around 94% of oil and natural gas production remain suspended due to the storm, exerting pressure on the supply side and keeping prices supported.
In addition, the API report which released in the previous session revealed a drop in US crude stockpiles over the past week, giving oil traders one more reason to stay bullish on the commodity. According to the API, US crude inventories declined by 4 million barrels over the previous week, a higher drop than the 2.8 million drawdown forecast by economists.