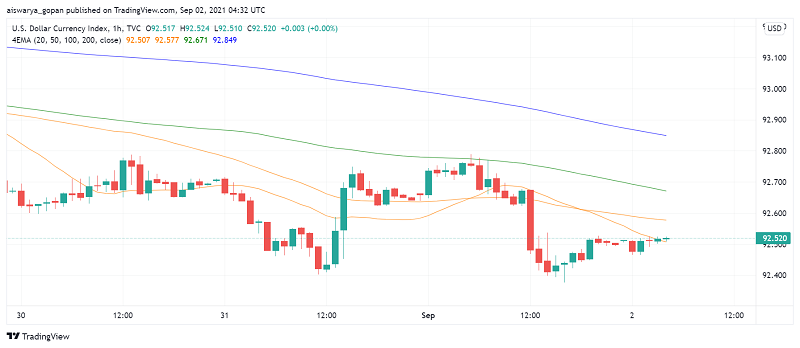 US Dollar Loses Ground as ADP Employment Report Delivers a Shock
On Thursday, the US dollar extends its bearish mood following the release of a weaker than expected private ADP employment report for the previous month, heightening worries of a similar miss in the August non-farm payrolls report as well. At the time of writing, the US dollar index DXY is trading around 92.52.
The ADP report which released in the previous session revealed that the private sector in the US added only 374k new jobs against expectations for a reading of 613k. The massive difference between the two figures scared investors that the labor market conditions in the nation were far from conducive for the Fed to turn hawkish anytime soon, as cautioned by Chairman Jerome Powell.
In addition to the weak employment data, the greenback also faced pressure after the common currency soared to the highest levels seen since a month. The rise in the Euro was triggered by a strong growth in Europe's manufacturing sector as well as higher inflation readings, sending investors away from the dollar.
Meanwhile, the weakness in the US dollar has helped commodity currencies AUD and NZD to rise to the highest levels seen in over two weeks. GBP/USD, however, had a weaker impact, remaining under the $1.38 level despite the bearish mood towards the US currency.
Later today, investors will focus on trade data coming out of the US in addition to the latest weekly jobless claims figures. The unemployment claims could drive volatility in markets in case it comes in below expectations, exerting more downward pressure on the reserve currency.
However, moves are likely to be muted as investors cautiously await the August NFP report scheduled for release on Friday. According to a poll by Reuters, economists expect the report to reveal an addition of 728k jobs against last month's reading of 943k.