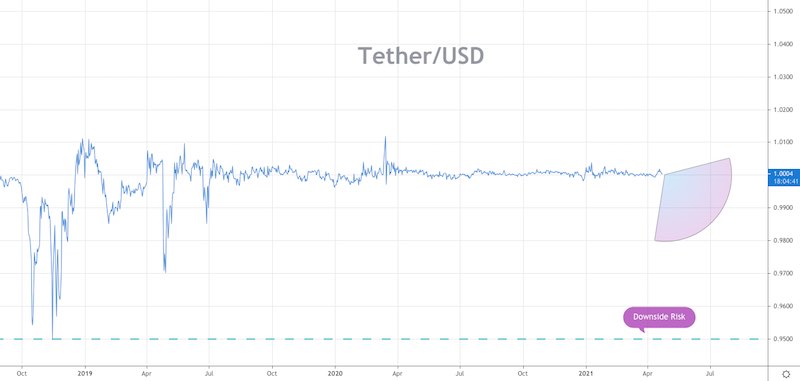 As Other Cryptos Plummet, Tether Hasn't Moved
The stablecoin Tether is up 0.1% today, which would normally not be news, but the rest of the cryptocurrency market (for the most part) has fallen considerably since late yesterday.
Stablecoins like Tether are proving their value in a volatile market. The El Salvador government announced Bitcoin as one of two national currencies yesterday, and it overloaded transaction servers to the point where the plug had to be pulled temporarily. The effect of staggered transactions and technical difficulties coursed through much of the cryptocurrency market.
How the Wider Market Is Coping
The value of Bitcoin is down 8.48% today, and other cryptocurrencies have fallen much further. Nothing serious happened on the networks that provide Ethereum or Theta tokens, but these currencies were hit hard, pulled down by what was happening with Bitcoin. That cryptocurrency has such a huge effect on the rest of the market that when something happens to it, the repercussions are felt everywhere.
As a stablecoin, Tether is tied to another currency rather than having much value on its own. Tether is linked to the US dollar, and its value changes based on what the US dollar is doing, yet it manages to hold a fairly stable price. Likewise, when much of the cryptocurrency market takes a dive as it did yesterday and continues to do today, Tether is holding stable.
It's not usually affected by what the other cryptocurrencies are doing, yet it offers many of the same advantages, allowing for an easy transfer of funds from one crypto to another.
Tether did experience a sharp drop yesterday, but it was very brief, and the token recovered fast. It dropped from $1 to $0.985642, which only lasted for about three hours, before it shot up to $1.01. While it was briefly affected by the market drop, Tether managed a much faster recovery than other cryptos, most of which have fallen farther than what we've seen the market do in months.