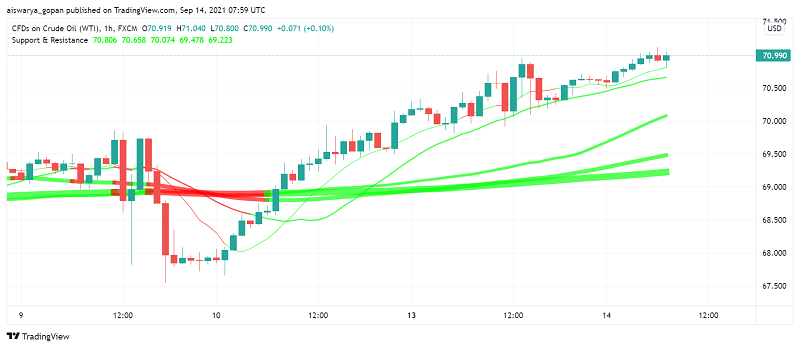 WTI Crude Oil Prices Continue to Climb Higher Ahead of Tropical Storm
Early on Tuesday, WTI crude oil is continuing to trade bullish and approaching the highest levels seen since six weeks over the possibility of an upcoming storm that could impact production in the Texas region even as US refiners try to resume production in the aftermath of Hurricane Ida. At the time of writing, WTI crude oil is trading at around $70.99 per barrel.
During the previous session, WTI oil prices strengthened by as much as 1.1% and hit the highest levels in over a month as offshore oil rigs in the Gulf of Mexico region undertook evacuation of workers. Tropical Storm Nicholas is making its way towards Texas and Louisiana where the effects of Hurricane Ida are still being felt by oil companies.
This has increased the demand for oil among traders who expect production to be affected further. US production of oil and gas is already down by over 40% two weeks after Hurricane Ida and while the tropical storm may not be as severe, it could still affect refinery operations and extend their shutdown.
However, gains in crude oil due to the sentiment around the upcoming storm could be limited as the summer holidays and peak travel seasons come wind down. This could reduce the demand for oil among US consumers and weigh on prices in the coming sessions.
In addition, crude oil prices could face further downward pressure in the coming weeks as the US and China plan to release oil from their emergency reserves to boost supplies in the market. Meanwhile, there appears to be some progress in discussions between Iran and the West on a nuclear deal which could also allow lifting of sanctions on the country and drive up oil supply in global markets as a result.