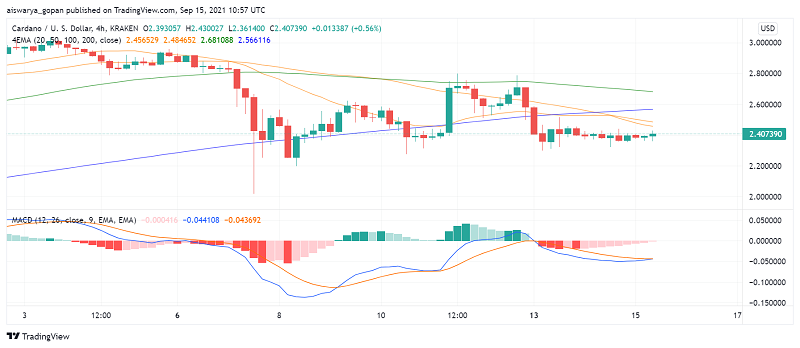 Are Buyers Losing Interest in Cardano (ADA) After Alonzo HFC?
Cardano (ADA) is creeping back up once again, although cautiously, reclaiming the key $2.40 mark but it looks like the enthusiasm for the cryptocurrency has dipped after the release of the much awaited Alonzo upgrade. At the time of writing, ADA/USD is trading around $2.40.
After weeks of soaring optimism about the upcoming hard fork which would bring smart contract capabilities to Cardano, investor excitement towards the world's third largest cryptocurrency by market cap seems to have taken a breather for now. The wait and watch approach as to what comes next will gather momentum once the market sentiment towards cryptocurrencies pick up and new fundamental developments showcasing increased adoption of the blockchain's new features hit the headlines in the coming weeks.
On this note, ADA could find some support from news about blockchain firm Taurus announcing a complete integration of its institutional grade platform with the Cardano blockchain. This development will provide support for Taurus's staking capabilities on the newly updated blockchain network, giving a boost to institutional investor interest in this cryptocurrency.
A new study of developer activity on GitHub from Outlier Ventures, an early-stage VC firm, reveals a surge in activity related to Cardano in terms of GitHub commits – an indicator of rising interest in the blockchain among the developer community. The study conducted between June 2019 and May 2020 and then between June 2020 and May 2021 shows that Cardano's received the highest number of average commits per month (CPM), rising by 24% between the two time periods.
Meanwhile, popular crypto strategist and trader Michaël van de Poppe has forecast a possible correction in Cardano's price against Bitcoin in the near-term before building up momentum to climb back higher again. This aligns with the fundamental analysis, indicating that interest in the cryptocurrency will strengthen once again as news of its adoption picks up.
Key Levels to Watch
On the H4 chart of ADA/USD, moving averages and leading technical indicators MACD and momentum are exhibiting a strong bullish bias among investors at the moment. Despite the weak moves upward, Cardano's price remains under the pivot point at $2.50.
ADA/USD
A strong uptick in pressure is required to take the price back above this level. However, in case more sellers jump into the market now, we can see the $2.40 level break down once again and the price going down towards immediate support at $2.09.