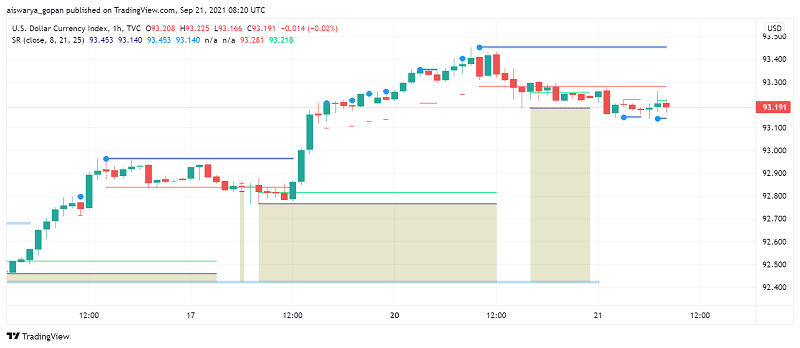 US Dollar Gains Amid Risk-off Mood in Global Markets – China in Focus
The US dollar maintains its strength into early trading on Tuesday, supported by a risk averse mood in global financial markets amid rising worries among investors about the impact of China's Evergrande potentially defaulting on its massive debt payments. At the time of writing, the US dollar index DXY is trading around 93.19.
The worries about the fallout from such an event have boosted the reserve currency's safe haven appeal, sending investors away from the riskier equity markets towards the stability that the greenback offers as an instrument. The US dollar has also been enjoying support from rising expectations that the Fed could announce a timeline by when it could commence the tapering of its asset purchase program during the upcoming policy meeting this week.
Meanwhile, the risk averse mood due to the escalating tensions about Evergrande are weighing heavily on the Chinese yuan, sending it to the lowest levels seen in nearly one month against the US currency. Volatility, however, remained thin in the Asian sessions as Chinese markets remain closed until Wednesday due to holidays in the region.
The risk-off mood as well as dovish statements from the RBNZ governor are keeping commodity currency NZD also trading under pressure against the USD. Earlier in the day, NZD/USD slid sharply but has managed a slight recovery after the NZ central bank's governor played down the possibility of a rate hike by 50bp in the next policy meeting.
Popular safe haven currency Japanese yen is also trading cautiously against the US dollar at the moment, dipping slightly as traders wait to hear from the BOJ on Wednesday. Economists expect Japan's central bank to keep the monetary policy and stimulus initiatives unchanged on account of the uncertain economic outlook for the country.