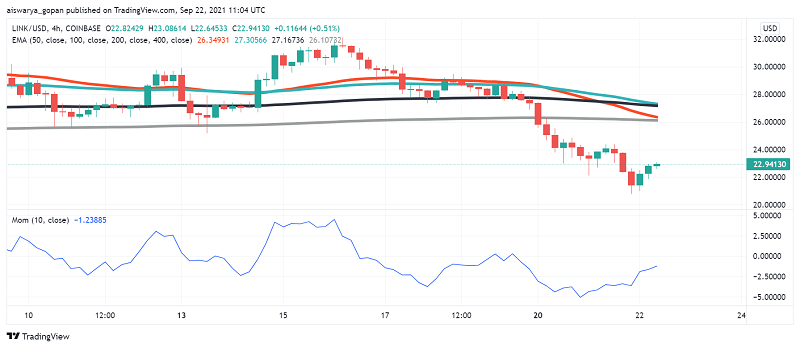 Chainlink (LINK) Sees Rising Adoption – Reason to be Bullish?
On Wednesday, Chainlink (LINK) is trading mostly steady after recovering from a dip but with most investors staying away from the crypto market on account of uncertainties due to the Evergrande situation, moves higher could be subdued in the short term. At the time of writing, LINK/USD is trading at around $22.94.
On the fundamentals front, the decentralized oracle network has witnessed significant activity, experiencing an uptick in the adoption of its technology across multiple projects. The increased adoption rates could offer support to Chainlink's price and propel it higher once a bullish mood is restored across the overall crypto market.
Soaring Adoption of Chainlink's Oracle Network
Leading payment gateway provider Alchemy Pay recently announced the integration of Chainlink Price Feeds to allow its users to purchase cryptocurrencies on DEXs and use leading DeFi platforms for lending and borrowing directly from their wallets using Alchemy Pay's ERC-20 token ACH. The use of the oracle network's infrastructure will allow users to receive fair market exchange rates when making transactions from their Alchemy Pay wallets.
In more adoption news, Block Ape Scissors also integrated Chainlink VRF on its platform to help verify the randomly generated layers on its farming protocol. The verifiable random function will allow the platform to offer a personalized yield farming protocol to its smart contracts, giving users a gamified yield experience.
In addition, dHEDGE – a decentralized platform for creating and managing hedge funds, also integrated Chainlink Price Feeds on its Polygon mainnet to offer more assets to its users and provide accurate oracle price feeds. The reputed decentralized oracle network will offer not only accurate price data to dHEDGE users even through periods of extreme market volatility and network congestion but also provide higher levels of security for on-chain data.
A popular crypto trader and influencer Aaron Arnold recently shared a bullish outlook on Chainlink, forecasting that it appears to be getting ready to breakout to the upside. In his recent YouTube video, Arnold notes, "Chainlink is kind of a blue-chip in what it does. No other oracle crypto like Chainlink is doing it as big as Chainlink."
Key Levels to Watch
On the 4-hour chart of LINK/USD, moving averages and the MACD are exhibiting a bearish bias. Although, the momentum indicator suggests some buying interest among investors as well.
Chainlink's price is sitting just above a support level at $21.34 but needs to cross another support at $24.36 and the pivot point at $28.24 for a trend reversal to be confirmed. Until then, pay attention to the support level it holds just above as increased selling pressure could see this level break down.
Cryptocurrencies were showing strong bullish pressure in the first two months of 2023, but the bullish momentum has faded
3 months ago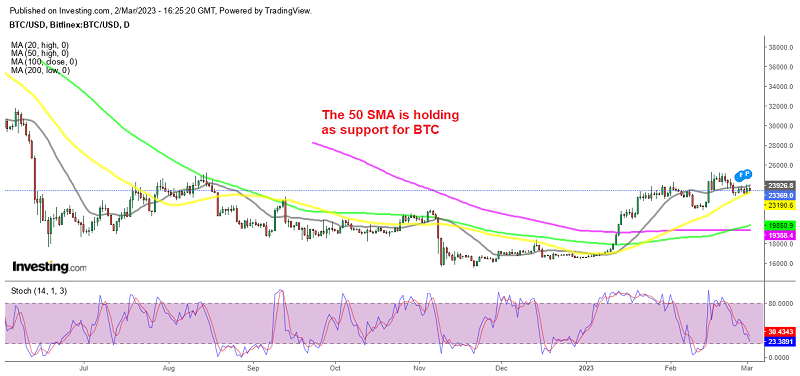 3 months ago