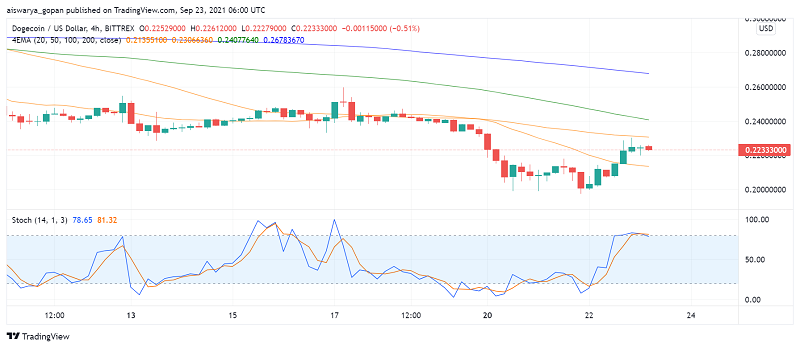 AMC's Poll Shows Strong Interest For Dogecoin (DOGE) as Payment Option
Early on Thursday, Dogecoin (DOGE) is making strong gains on the back of a return of buyers into the crypto market and some solid fundamentals, including AMC confirming that it will look into making the cryptocurrency a valid payment option. At the time of writing, DOGE/USD is trading at around $0.223.
Users Want AMC to Start Accepting Payments in DOGE
Earlier this week, the CEO of the leading US-based theater chain ran a Twitter poll requesting user feedback on whether the company should include Dogecoin among its payment methods when it rolls out crypto payments by the end of the year. On Wednesday, AMC CEO Adam Aron announced that his poll was the most engaging tweet he had ever posted and had received an overwhelming majority of 77% for DOGE to be accepted by AMC.
The CEO then went on to state that his company will start working out how to make this happen and will update users on the progress. What's even more interesting that Aron's Twitter poll did catch Dogefather Elon Musk's attention, with Musk's liking of the tweet being confirmed by Aron. Meanwhile, Musk has stated that the memecoin will have to figure out ways to reduce transaction fees to make its adoption as a payment option among retailers even more widespread.
Dogecoin's bullishness received an additional boost over news reports that leading fintech app Robinhood is set to launch its crypto wallet next month which will let users deposit and withdraw Dogecoin. This development will further encourage the use of the memecoin among users as it was one of the biggest drivers of growth in Robinhood's popularity over the past few months.
The Dogecoin community is also abuzz with rumors that Musk's company Tesla could look into accepting the crypto as a payment method soon. The frenzy was triggered after crypto influencer and DOGE fan tweeted that Tesla could make the announcement after Robinhood launches its crypto wallet, which is scheduled for October. While these rumors remain unconfirmed, they have increased interest in the memecoin among the Doge Army and helped increase its trading activity.
Key Levels to Watch
On the H4 price chart of DOGE/USD, we find some mixed signals with the smaller timeframe moving averages and the MACD suggesting a bullish bias. On the other hand, the larger MAs, along with leading technical indicators momentum and Stochastic are flashing 'sell' at the moment.
Dogecoin's price is sitting just above the support level at $0.221 and needs more buyers to jump in to take it past the pivot point at $0.24. Once this happens, we can see buyers face resistance at $0.252 and then again at $0.27 before DOGE can go above the $0.30 mark.