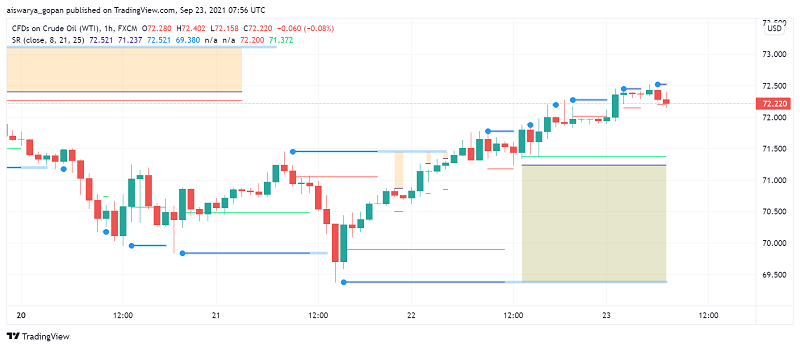 WTI Crude Oil Extends Gains as Demand Rises, Supply Tightens in US
WTI crude oil continues to trade bullish into Thursday, buoyed by a greater than expected drawdown in US crude stockpiles reveals a surge in oil demand even as the supply side remains weak in the aftermath of the two hurricanes that have affected production in the Gulf of Mexico. At the time of writing, WTI crude oil is trading at around $72.20 per barrel.
During the previous session, WTI oil strengthened by as much as 2.5% after the EIA report revealed a drop in crude inventories across the US. According to the EIA, crude stockpiles fell by 3.5 million barrels over the past week, a bigger drop than the 2.4 million fall forecast by economists.
The EIA also reported a refinery utilization rate of 93% along the East Coast of the US – the highest levels seen in over two years. This is indicative of strong fuel demand as travel restrictions across the US are removed as concerns about the pandemic wane.
Crude oil prices received an additional boost after the market sentiment was bolstered with concerns about a possible debt default by China's Evergrande easing. Over the past few sessions, the risk averse mood kept traders away from commodities like oil and other riskier instruments over worries that the leading property developer in China would default on its massive debt, which would have a spillover effect on global financial markets.
The demand for the commodity among traders surged further after natural gas prices continued their climb higher. The rise in crude oil prices came even as the US dollar, which shares a negative correlation with oil, strengthened to a one-month high in the previous session and made oil more expensive for holders of other currencies.