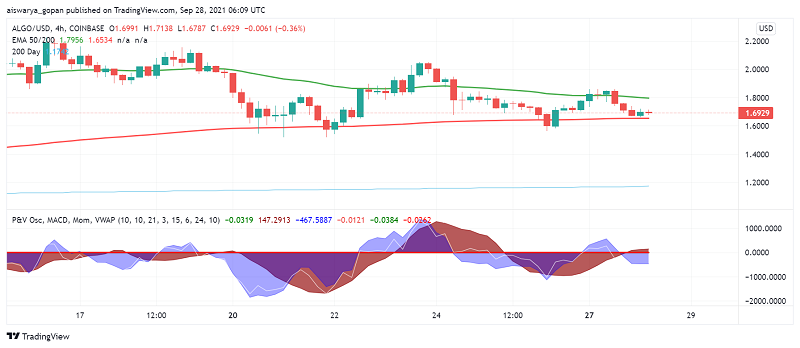 Algorand (ALGO) Sees Cautious Trading Despite Strong Fundamentals
Algorand (ALGO) is trading mostly steady early on Tuesday amid a somewhat cautious mood among investors towards the wider crypto sector as they wait to see if market leader Bitcoin can reclaim the $45,000 mark. At the time of writing, ALGO/USD is trading at around $1.69.
According to a recent market analysis by Arcane Research, mid-cap altcoins experienced a better performance through the month of September so far. Algorand was listed as the best performing asset among the top 50 cryptocurrencies so far this month. Over the past three months, the ALGO token has witnessed an ROI of around 100% while over the past 12 months, it has risen by as much as 500% in value, making it an emerging and attractive option among crypto investors.
One of the major developments supporting Algorand's bullish moves lately is news of a significant investment in the blockchain by Skybridge Capital – a hedge fund run by Anthony Scaramucci. He recently confirmed that his fund has holdings worth $700 million in ALGO and is looking to raise an additional $100 million for an Algorand-based ETF as well. This news has spurred investor confidence in the crypto which is currently ranked as the 16th largest by market capitalization as per Coinmarketcap.
In a recent interview with Bloomberg, Scaramucci noted that despite the recent hype in the market, there is little interest among large financial institutions towards digital assets till date. He estimates that only around 10% of financial institutions are looking at ways to invest in cryptocurrencies but even this limited interest has made a significant impact on the sector as a whole so far.
Algorand's rise has also been powered by an uptick in the number of users of its network. In less than a month alone, there has been an addition of more than 500k users on its blockchain. However, a further spike in price would require an increase in trading volume and activity on the network, which have held mostly steady over the past week.
Key Levels to Watch
On the 4-hour chart of ALGO/USD, most of the moving averages along with leading technical indicators MACD and momentum are suggesting a strong bearish bias at the moment. However, the 200 EMA (red) and 200 SMA (blue) suggest some interest among buyers as well.
Algorand's price is sitting under the pivot point at $1.78 at the moment, although the immediate support sits far off at $1.51. An increase in selling pressure could see this level being tested; although if buyers jump into the market now, we could see ALGO rise back up above the pivot point.