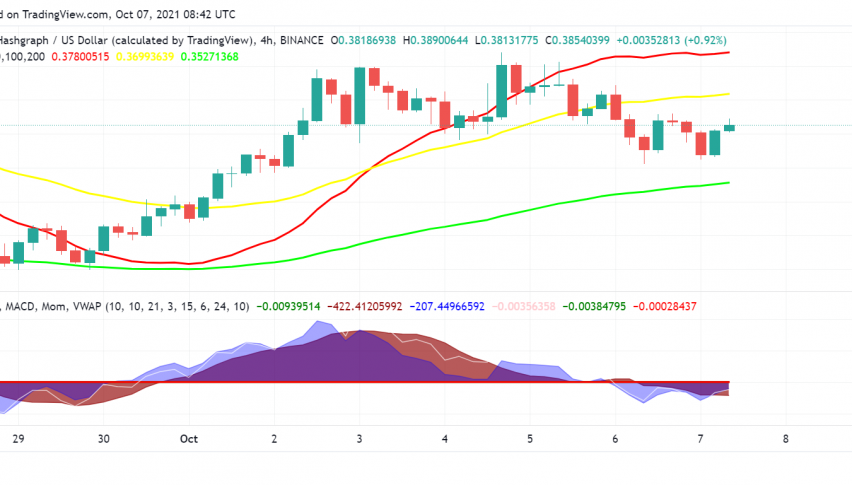 Good Time to Buy And Hold Hedera Hashgraph (HBAR)?
Early on Thursday, Hedera Hashgraph (HBAR) is exhibiting signs of choppy trading under the key $0.40 level, after experiencing weakness through several sessions after touching a new ATH late in September. At the time of writing, HBAR/USD is trading at around $0.38.
The high-profile project touts a significantly different technology than other leading players in the crypto and blockchain industry, but supports the creation of dApps with extremely fast transaction processing capabilities and low transaction fees. Leveraging Hashgraph technology, its network can process over 10,000 TPS against leading PoW blockchains that boast a speed of around 5-20 TPS. It shot into fame as its governing council includes some of the biggest technology organizations around the world. In recent weeks, the adoption of its ecosystem among projects has been steadily rising and it looks set to make a mark in the DeFi and NFT sectors in the coming months.
Latest Fundamental Developments in Hedera Hashgraph
One of the most important fundamental developments that can support the value of the HBAR token in the near future is its governing council's decision to set aside nearly $4 billion worth of funds towards driving the growth of its ecosystem. The amount comes from 20% of the total token supply – 10.7 billion HBAR, being allocated to finance the growth via providing grants to developers and projects in the DeFi, NFT and GameFi sectors.
In terms of adoption, fintech company SKUx recently announced a partnership with Hedera Hashgraph to leverage its network for powering payment-based offers to the firm's ever rising ecosystem of retailers, brands and marketing services businesses in a secure and efficient manner. Its solution SKUPay™ will be powered by the blockchain network, offering serialized, trackable and redeemable coupons with nearly instant digital settlements.
Another promising development is AI-powered real-time data analytics company Fobi integrating its Wallet pass solution with the Hedera Consensus Service. Using the Hedera Hashgraph network, Fobi will be able to provide a completely secure mobile wallet as well as digital proof of vaccination credentials to its users.
Key Levels to Watch
On the H4 price chart of HBAR/USD, most of the moving averages are exhibiting a bullish bias. Although, other leading technical indicators MACD and momentum are pointing to some interest among sellers as well.
Hedera Hashgraph's price is holding above the pivot point at $0.37 and it looks like buyers could try to cross the $0.40 mark soon on the back of a positive sentiment in the crypto market. In this case, keep an eye on the immediate resistance at $0.44 as it could prove to be a challenge for HBAR investors in the near term.