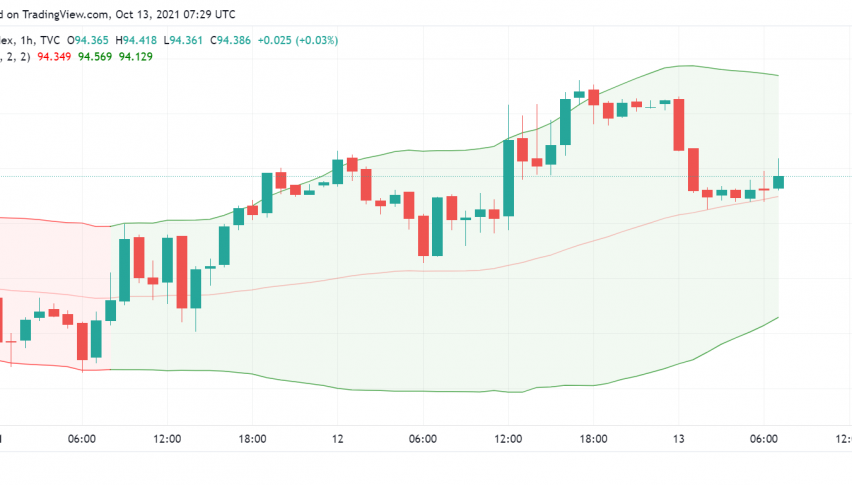 US Dollar Trades at One-Year High Against Other Majors: Fed in Focus
The US dollar is trading at the highest levels seen in a year against other leading currencies as investors focus on the Fed's upcoming tapering of its monthly asset purchase program in November and hope for the rise rate hike post pandemic coming next year. At the time of writing, the US dollar index DXY is trading at around 94.38.
During the previous session, the greenback received a boost after three Fed policymakers expressed belief that the US economic recovery was progressing well enough to warrant the start of the tapering process. This would be the first step in rolling back the massive monetary stimulus measures unleashed when the COVID-19 pandemic first sent the US and most of the world into lockdown mode in early 2020.
These comments helped the dollar index touch a high of 94.563 not seen since September last year, although it has eased slightly lower since then. In addition to pulling back on stimulus measures, several officials have indicated interest in advancing the timeline for the first rate hike to sometime in 2022, which could make the Fed one of the first among major central banks to turn hawkish.
Two-year US Treasury yields have surged to the highest levels seen in over 18 months as a result of soaring energy prices as markets expect the Fed to step in with monetary tightening measures to offset their effect on economic recovery in the US. The spike in bond yields has further increased investor confidence in the US dollar and supported its bullishness.
The surge in bond yields have also helped the reserve currency strengthen to the highest level in three years against Japanese yen while the common currency trades around the $1.15 level, close to 15-month lows. Later today, all eyes will be on the CPI data for clues on whether inflationary pressures are building up and could force the Fed to hike interest rates sooner than previously planned.