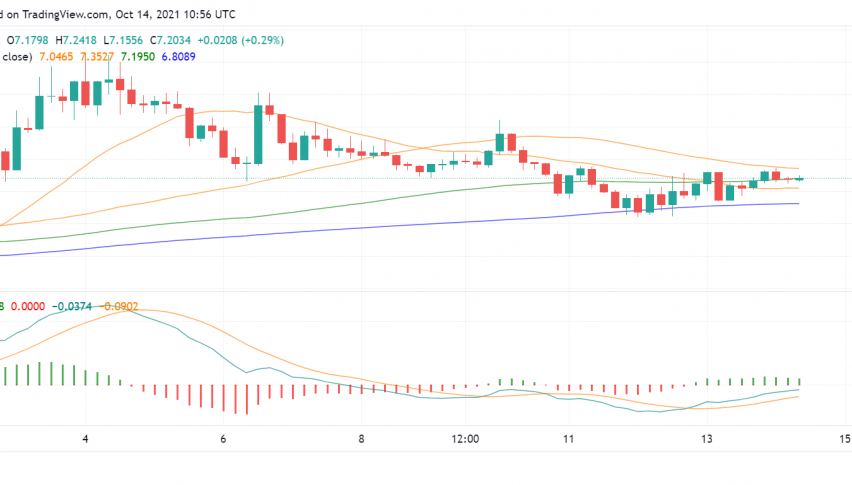 Good Time to Buy Tezos (XTZ)? Here's Why We Think So
Tezos (XTZ) is trading steady early on Thursday and remains one of the quieter cryptos in the market even as quite a few of its peers notch up small gains on the back of bullish action in market leaders Bitcoin and Ethereum. At the time of writing, XTZ/USD is trading around $7.20.
Bank of America (BofA) Shows Interest in Tezos
Although its price action remains muted in comparison with most of the market, we choose to take a look at it today on account of several interesting fundamental developments. One of the biggest is its inclusion in the Bank of America's Digital Assets Primer. While cryptocurrencies had failed to see much traction and interest among the mainstream financial community, much of that has been changing over the past year and financial institutions are looking at ways to invest in digital currencies lately. While the BofA report does talk about Bitcoin and Ethereum, it also highlights developer interest as one of the main factors that could drive up the success of other cryptos, and Tezos leads the list of tokens outside the top 15 in this regard, making it worth keeping an eye on.
Rising Interest in XTZ Staking and ETPs
In addition to BofA's mention, Tezos has been garnering considerable attention from other banks and financial institutions around the world as well. For instance, Arab Bank Switzerland is one such organization that has chosen to use its blockchain infrastructure for offering institutional-grade storage, staking and trading of the XTZ token. It is the first private bank to offer staking among its crypto services, letting clients earn more profits from their investments in digital assets.
SEBA Bank, a Switzerland based bank, has launched a yield farming service for its customers, allowing customers to stake and earn rewards from their holdings in XTZ as well as other cryptos ADA and DOT. Titled SEBA Earn, the program will allow institutional and retail investors to get in on the DeFi trend, backed by the mainstream financial institution.
In addition, 21Shares – the world's leading issuer of crypto-based ETPs, recently announced the listing of Tezos ETP on Euronext Paris and Euronext Amsterdam. The Tezos ETP is among five new ETPs launched by the company, allowing users an opportunity to trade cryptos against the Euro and the US dollar.
Beyond its adoption in the world of mainstream finance, the XTZ token could enjoy support from a major announcement in the NFT space as well. Tezos will present an NFT exhibition at the world renowned Art Basel Miami Beach 2021, showcasing digital set in an exclusive exhibition for NFTs in a physical space.
XTZ/USD Technical Analysis
On the 4-hour price chart of XTZ/USD, most of the moving averages along with leading technical indicators MACD and momentum are suggesting a bullish bias among investors. Tezos's price seems to be making its way towards the pivot point at $7.68 and can soon cross the level as long as the buying pressure sustains.
On a positive note, XTZ is sitting comfortably above the immediate support level at $6.22. It's a good time to keep a close eye on the pivot point and get into a buy trade in this crypto pair soon.