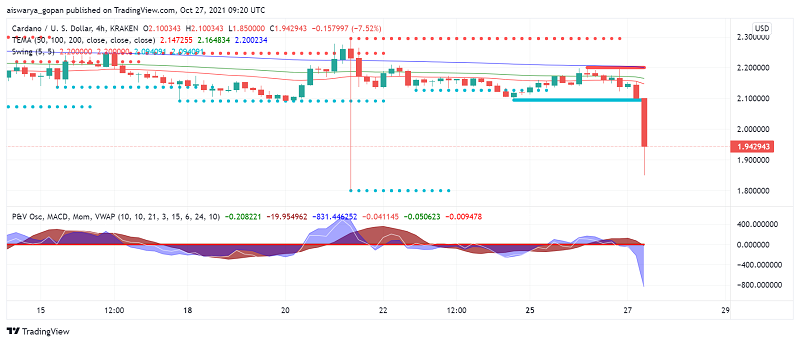 Cardano (ADA) Breaks Below $2: What Next?
Cardano (ADA) has crashed under the key $2 level, bucking the trend of the altcoin rally despite significant developments in its ecosystem and enjoying high levels of inflows from institutional investors lately. At the time of writing, ADA/USD is trading at around $1.94, registering a daily loss of over 10%.
The lull in its price action comes even as institutional inflows into Cardano touched $5.3 million over the past week. As per the latest data from CoinShares, the fourth largest crypto by market cap saw the third highest inflows of funds from institutional investors during the previous week, following market leader Bitcoin and Solana.
Cardano's Ecosystem Gets Busy But Fails to Impress Buyers
Meanwhile, on the fundamentals front, there have been remarkable progress in the development of projects, particularly in the DeFi and NFT spaces. Cardano-based DEX RavenDex launched its non-custodial decentralized exchange to allow seamless transfer between ADA and other tokens in the Cardano ecosystem, bringing with it asset lending and borrowing services to the blockchain.
On the NFT front, Cadalabs has recently announced the Cadalabs NFT & Crypto Collectibles Market. The NFT and digital collectibles based platform operates on Cardano's network and is the first DeFi platform to leverage a native token to let users mint and brand their digital art.
NFTs on Cardano will get a bigger push on the back of Bondly protocol, which will build a bridge between Cardano and Ethereum for NFT makers. Giving content creators the benefit of the blockchain's energy efficiency, the bridge will allow them to transfer NFT creations between the two blockchains.
Cardano-based launchpad Kick.io has announced its first IDO launch partner earlier this week – Adaswap. The Cardano-based AMM will offer a fairer, cheaper and more accessible way for users of the blockchain to power innovation in the DeFi space. Kick.io is offering the community an opportunity to become early investors in the project, running a public sale of tokens for one week starting from 2 November.
On the adoption front, a Portugal-based real estate company Prometheus International recently confirmed that it had successfully sold two luxury houses in August which were paid for using Cardano. In addition, the company is also offering property ownership via VFTs so future owners can resell their properties on the blockchain in a transparent, hassle-free manner.
ADA/USD Technical Analysis
On the 4-hour chart of ADA/USD, moving averages as well as leading technical indicators MACD and momentum are suggesting a strong bearish bias. This means we can expect more downside in the potential Ethereum killer in the near-term.
Cardano's price has broken down under the $2 mark after the pivot point at $2.07 collapsed a few hours ago. So far, the immediate support at $1.84 is doing its job but increased selling pressure could see a test of this level, so keep a close watch on it.
Cryptocurrencies were showing strong bullish pressure in the first two months of 2023, but the bullish momentum has faded
3 weeks ago