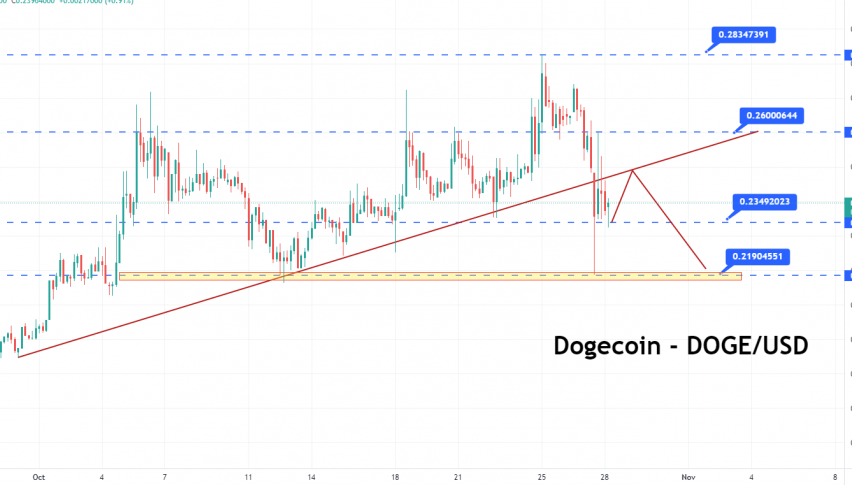 Dogecoin Slips to $0.2349 – Is it Going After $0.2190?
Posted Thursday, October 28, 2021 by
Arslan Butt
• 2 min read
The DOGE/USD pair ended the day at $0.237600, having reached a high of $0.263600, and a low of $0.218100. DOGE/USD fell for the third session in a row on Wednesday, reaching its lowest level since October 12. Dogecoin came under pressure on Wednesday, as the rival currency, Shiba Inu, came close to surpassing Elon Musk's favorite cryptocurrency, DOGE. In the last 24 hours, the digital token has surged more than 30% and hit a record high of $0.00006, which was more than double the price of last week.
Shiba Inu vs. Dogecoin
Shiba Inu has a market cap of more than $29 billion, and it is the 11th-largest cryptocurrency. Dogecoin, on the other hand, is the 10th largest cryptocurrency, with a market cap of $31 billion. The sudden increase in its rival currency weighed heavily on Dogecoin, and its prices fell by 11% in a single day on Wednesday.
The rise in Shiba Inu was driven by the speculation prevailing in the market about Robinhood adding Shiba Inu to its platform. Believers in Shiba Inu are pushing hard for Robinhood to list the token, and they have started a petition on Change.org. So far, the petition has more than 300,000 signatures. However, Robinhood has not yet publicly announced whether it will support Shiba Inu.
[[Dogecoin-graph]]
Shiba Inu was launched 14 months ago, as a potential Dogecoin-killer, and recently it has been gaining a lot of attention from the market. The expectations in the market that SHIB token could surpass Dogecoin in terms of market capitalization, and become the 10th largest cryptocurrency – which has now happened – have been weighing heavily on the DOGE prices, which ultimately declined about 11% in a single day on Wednesday.
Dogecoin daily technical levels
Support             Resistance
0.215934           0.261434
0.194267           0.285267
0.170434           0.306934
Pivot Point:      0.239767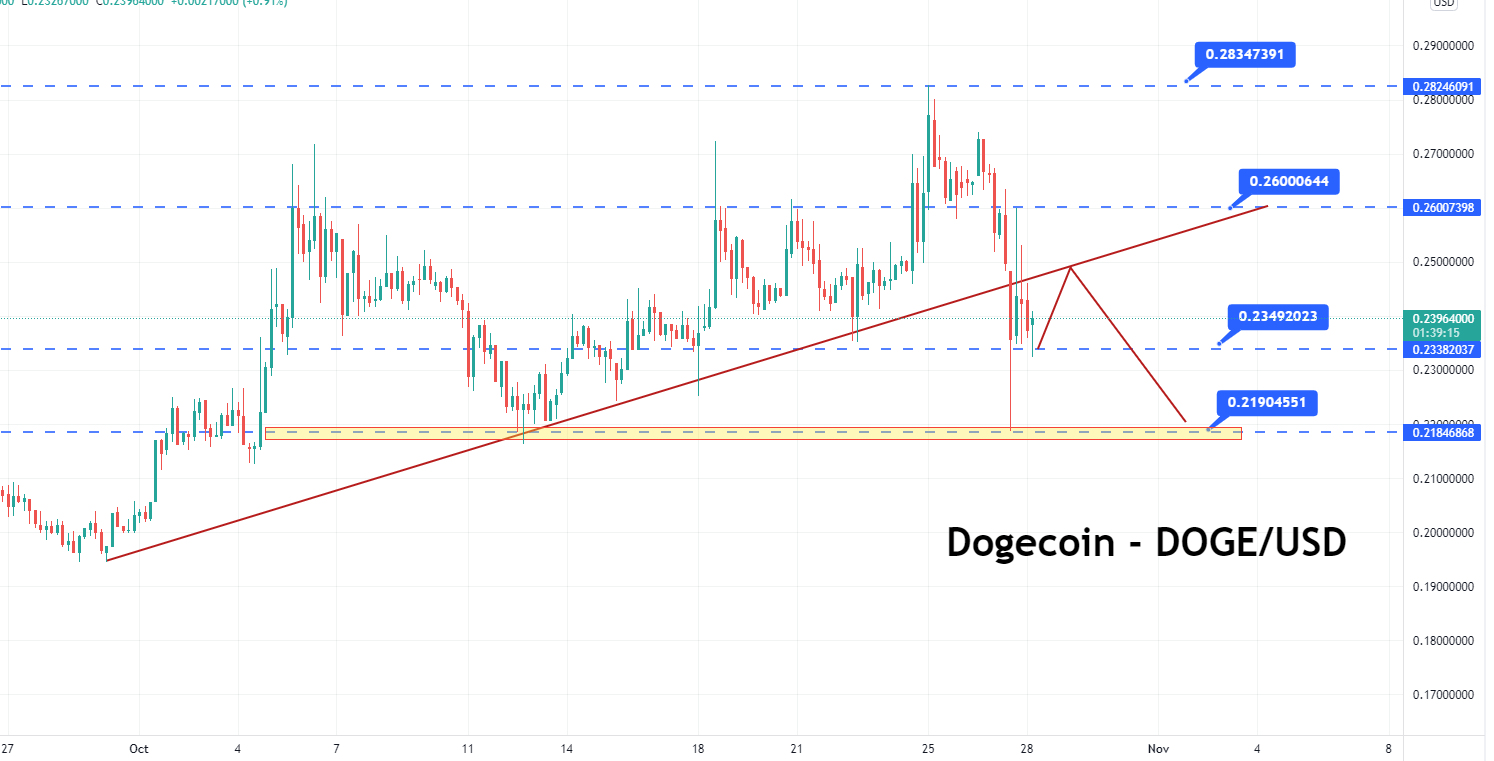 Dogecoin Slips to $0.2349 – What's Next?
On Thursday, the DOGE/USD is trading bearishly at the 0.235932 level, facing immediate resistance at the 0.2492 level, along with support at 0.2349. On the 4-hour timeframe, DOGE/USD has violated an upward trendline at the 0.2455 level, which is now operating as a resistance.
On the lower hand, Dogecoin's immediate support prevails at 0.2346, and a breakout here could lead its price towards 0.2250. Conversely, a breakout at the 0.2490 resistance could lead the coin towards 0.2572. Furthermore, a bullish breakout at 0.2572 could create further room for buying, until the 0.2712 level. Let's keep an eye on 0.2349 to determine further trends in the market. Good luck!