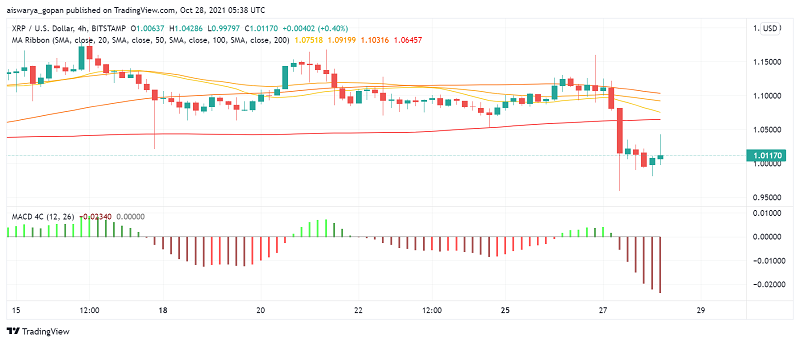 Ripple's XRP Returns Above $1, But Buyers Unable to Go Beyond
Ripple's XRP buyers have struggled hard and reclaimed the key $1 level once again, but seem unable to take it higher, after dipping under this important point in the previous session. At the time of writing, XRP/USD is trading at around $1.01.
The cryptocurrency which has slid to the eighth position in terms of market cap on Wednesday has been trading weak through the past week, unaffected by strong fundamental developments. Even the bullish sentiment in the overall crypto market and towards altcoins have failed to spur much interest in the XRP among investors, as the lawsuit between Ripple and the SEC gets further extended into early next year.
Last week, Ripple's CEO Brad Garlinghouse remarked that Ethereum had managed to overtake XRP only because it was given regulatory approval even as his own company faces a battle with the SEC. Garlinghouse made these comments while addressing the DC Fintech Week virtual conference, stating, "Within the last few years, XRP was the second most valuable digital asset. As it became clear the SEC had given a hall pass to ETH, ETH obviously has kind of exploded and that clarity has helped."
RippleNet's Adoption on the Rise
Meanwhile, on the fundamentals front, Ripple's technology is seeing its adoption rise around the world. The company recently announced a partnership with Pyypl to launch RippleNet's On-Demand Liquidity (ODL) service in the Middle East – one of the largest markets as far as remittance is concerned. ODL's deployment in the MENA region will boost remittances and global payments from the region to several other parts of the world in a cheaper and faster manner. Transaction volumes on RippleNet have already increased by four times since all of 2020 through this year so far.
This announcement comes a week after Ripple announced a partnership with UAE-based foreign exchange and international money transfer company Al Ansari Exchange. The firm will use RippleNet Cloud to connect with another leading player in the money transfer space, MoneyMatch, to provide quick remittances to Malaysia.
In more supporting news, Warren Buffer's firm Berkshire Hathaway recently announced a $500 million investment in Brazilian digital bank Nubank, which leverages RippleNet's technology. What's interesting is the timing of the announcement – Nubank confirmed receipt of investment from Buffet's firm around the same time when it announced its partnership with RippleNet. It could be a sign that Buffet believes in the potential of Ripple's technology despite the ongoing regulatory challenges it faces in the US.
Will Coinbase List Ripple's XRP Soon?
Earlier this week, Ripple received direct support from Coinbase CEO and co-founder Brian Armstrong. In an update posted on Twitter, Armstrong mentioned, "The Ripple case seems to be going better than expected. Meanwhile the SEC is realizing that attacking crypto is politically unpopular (because it harms consumers)." He made this statement while sharing a Forbes article discussing the SEC vs. Ripple lawsuit, and many users have taken this as a promising sign that Coinbase could list XRP on its platform soon, which could drive up some buying interest in Ripple's cryptocurrency.
XRP/USD Technical Analysis
On the 4-hour chart of XRP/USD, moving averages and the MACD are suggesting a bearish bias. However, the momentum indicator reveals some buying interest as well.
Ripple's XRP is holding under the pivot point at $1.10 and requires a greater build-up of buying momentum to overcome this level. A hesitant mood among buyers, on the other hand, could see the immediate support at $0.98 being tested, so pay close attention to this level.
Cryptocurrencies were showing strong bullish pressure in the first two months of 2023, but the bullish momentum has faded
2 weeks ago