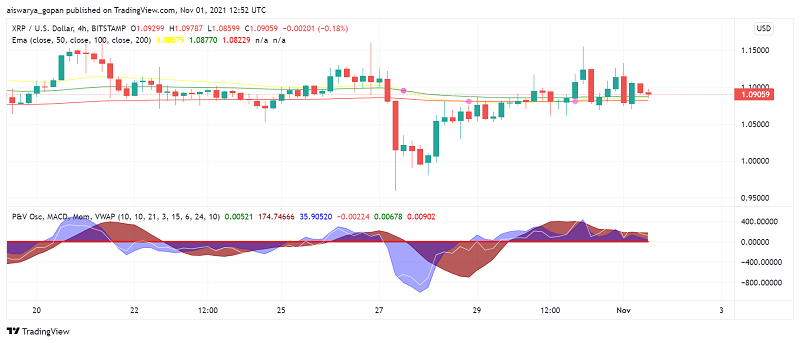 Ripple's XRP Had a Good Q3, But Can Rising Adoption Offset Legal Troubles?
Despite its legal woes, the previous quarter has been a good one for Ripple's XRP, supported by the bullish sentiment among investors towards cryptocurrencies in general, driving a surge in sales growth. At the time of writing, XRP/USD is trading at around $1.09.
Even as its lawsuit with the SEC drags on, Ripple has announced its sales record for the third quarter of the year, in an attempt to becoming more transparent towards its community. According to its recently published data, net of purchases – or total sales, from XRP reached $491.74 million during Q3 2021, up from over $157 million in Q2 this year. This, despite the fact that global XRP sales volume shrank drastically from $408.80 billion in Q2 to $189.53 billion.
Ripple's report points out that while XRP's average daily volume tanked by over 50% in the previous quarter, market leaders BTC and ETH also saw their volumes drop by around 33% during the period. The report does note, however, that growth was seen in DeFi-related tokens, especially Avalanche, Terra's LUNA and Solana.
While the lawsuit between Ripple and the SEC could take longer to reach any conclusion, the company has enjoyed a strong growth in its On-Demand Liquidity (ODL) service so far this year. RippleNet has enabled its customers to conduct cross-border transactions using its infrastructure across more than 20 countries worldwide. Transactions over RippleNet have risen by over 100% YoY and by 130% QoQ during Q3 2021. Despite the company's US ODL flows being stopped due to the regulatory uncertainties, international ODL volume has increased by more than 25 times YoY between July and September.
Meanwhile, on the legal front, Judge Sarah Netburn has ruled in Ripple's favor by sealing evidence that could potentially prove that the SEC lied to the court. The SEC has previously claimed that these documents are privileged under DPP (deliberative privilege process), but could counter the agency's stand that Hinman's speech was his personal opinion and does not reflect the SEC's policy on digital assets. Ripple plans to use these documents to challenge the SEC on fair notice, pointing out its contradictory position towards the XRP.
XRP/USD Technical Analysis
On the 4-hour price chart of XRP/USD, most of the moving averages as well as leading technical indicators MACD and momentum are exhibiting a bearish bias. However, the 50 EMA and 200 EMA offer some hope as they are flashing 'buy' signs.
Ripple's XRP price is holding just above the pivot point at $1.077 but an increase in selling pressure could see it being tested and possibly even broken. On the other hand, if more buyers jump into the market now, we could see the XRP's value rise past the key $1.10 mark until the immediate resistance at $1.195.
Cryptocurrencies were showing strong bullish pressure in the first two months of 2023, but the bullish momentum has faded
2 weeks ago