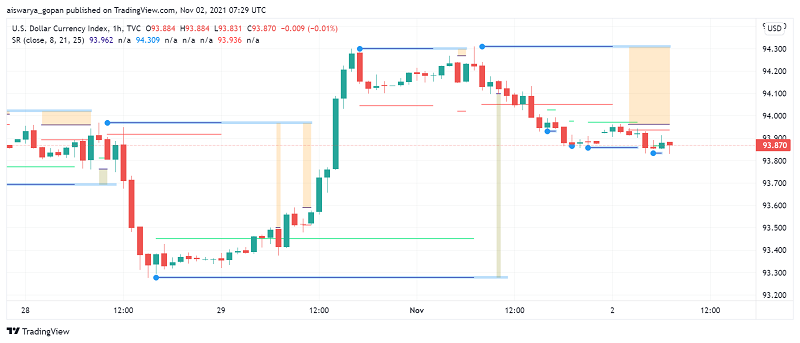 US Dollar Firms Up Ahead of FOMC: Inflation Effect on Fed's Plans Awaited
Early on Tuesday, the US dollar is trading steady and holding close to its recent gains as investors wait for insights from the FOMC, especially on the Fed's stance towards rising inflation in the country, before making their next moves. At the time of writing, the US dollar index DXY is trading around 93.87.
Markets will closely monitor the Fed's decision to begin tapering of its monthly asset purchase program in this upcoming meeting. In addition, any clues from policymakers on a shift in stance due to rising inflationary pressures could also drive some volatility in the greenback. Any comments about the Fed reacting to recent figures that show inflation is picking up in the US could be taken as a sign that the central bank may resort to a rate hike sooner than planned.
Expectations are high that the Fed could finally offer a reaction to the spike in inflation, something it had previously insisted would be transitory but has recently started acknowledging could last longer. Comments in this direction could not only support the US dollar but drive up a risk-off mood in markets which could further boost the reserve currency's safe haven appeal this week.
Also in focus this week will be the BOE's meeting on Thursday, especially as traders increasingly anticipate a rate hike in the UK. These hopes are keeping GBP/USD firm despite the recent strengthening in the US dollar, as the BOE could become the first among major central banks to increase interest rates since the beginning of the pandemic over a year ago.
Earlier in the day, we also got a peek at the RBA's monetary policy, but there were no surprises in terms of interest rates, with the Aussie central bank opting to hold rates steady at a record low 0.1%. What was interesting, however, was the RBA's decision to no longer commit to holding bond yields low and its estimate for the first rate hike to happen only in 2024 – an indicator that Australia could see its OCR rise before planned as well.