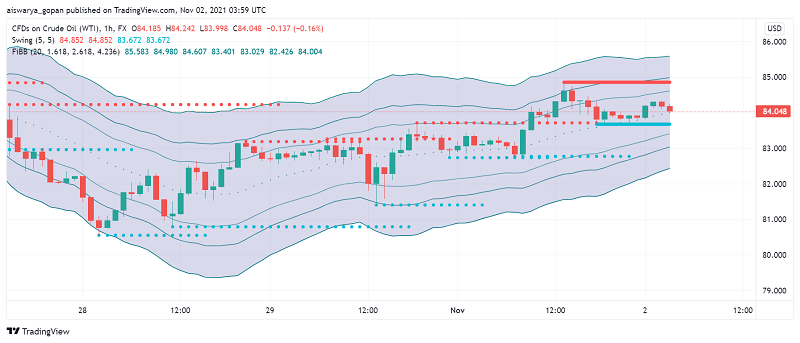 WTI Crude Oil Surges Ahead as OPEC Production Comes in Below Limit
WTI crude oil prices extends its bullish moves from the previous session into Tuesday, supported by OPEC undershooting its pace of increase in oil output during October, a sign of tighter supply in a market that is seeing demand rise rapidly. At the time of writing, WTI crude oil is trading at around $84.04 per barrel.
The last week saw oil prices surge to the highest levels seen in several years as energy demand rebounds strongly around the world, as countries emerge from lockdowns and resume normal levels of economic activity. Meanwhile, leading oil producing nations' decision to increase oil supply at a gradual pace is keeping the supply side of the commodity tight and driving a strong rally.
According to latest data from Reuters, OPEC's oil output through the month of October came in below the planned levels on account of involuntary outages among some of the smaller oil producers in the group. Despite leading suppliers Saudi Arabia and Iraq pumping more oil, the total output from OPEC came in at 27.5 million bpd last month, 190k bpd higher than in September. However, the rate of increase was well below the proposed 254k bpd increase the group had previously agreed on.
Crude oil prices are also enjoying support from Chinese oil firms' decision to hike refinery run rates in a bid to prevent a shortage of diesel in the country. As the world's second largest energy consumer, increased appetite for the commodity in China has a strong impact on oil prices.
However, WTI oil could face some pressure from the latest inventories data from the US this week. According to a recent Reuters poll, crude stockpiles are expected to have increased over the past week; although, distillate and gasoline inventories could report a drawdown for the period.