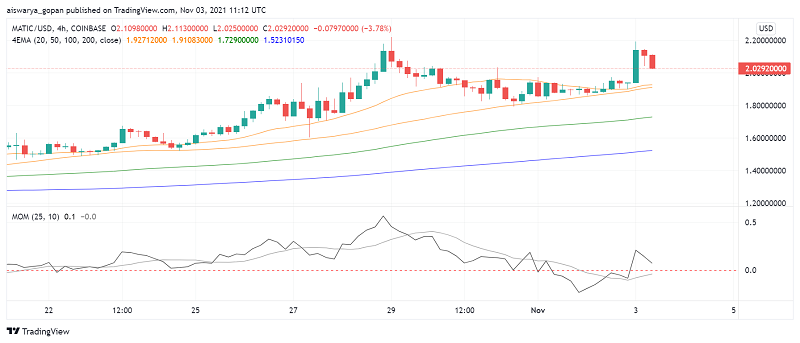 Can an Altcoin Rally Take Polygon (MATIC) to New ATH?
Early on Wednesday, Polygon (MATIC) is registering promising gains and making it way higher past the key $2 mark, with some analysts forecasting a bull run that can possibly take it to a new ATH in this cycle. At the time of writing, MATIC/USD is trading at around $2.02.
One of the biggest drivers of the MATIC token is the rapid pace of adoption of Polygon's ecosystem among dApps. The popular L2 scaling solution offers one of the best alternatives for developers looking to move away from Ethereum without too much hassle, becoming a popular choice for DeFi, NFT, GameFi and other decentralized applications. According to latest data on Defi Llama, Polygon's DeFi TVL sits at almost $5.2 billion at present, up from less than $800k only a year ago.
On the fundamentals front, an interesting development that can support the value of MATIC in the near-term is the launch of Arc8, a Polygon-based P2E mobile esports platform. Even prior to its launch, its pre-registration process has garnered interest from 1.3 million users, which could have a significant impact on the on-chain activity on the network. In addition to the launch, Arc8 will also launch its first NFT pre-sale of G-bots – a collection of 1,000 characters from the game to further drive up engagement.
Polygon Studios, the blockchain's venture focused to develop its NFT and GameFi footprint, will receive quite the boost from the inclusion of Matthew Ball, venture capitalist and metaverse thought leader, to its advisory board. Another interesting addition to the advisory board is that of Jonathan Glick, who serves on the council of Roundhill Ball Metaverse ETF and former SVP of Product & Technology at the New York Times. This development is likely to further enhance the strategy of Polygon Studios and drive more innovation in NFT and blockchain gaming products.
Polygon has also partnered with WISeKey to offer trusted NFTs solutions, letting users of WISeID mint their Digital Identities as NFTs on the trustednft.io marketplace. These Digital Identities in Metaverse can be used to establish a reputation, exchange value through the use of digital signatures, and do more, all in a decentralized and cryptographically secure manner on the blockchain. The NFT identity is an innovative use case which holds much promise as more applications move to Web 3, giving users complete control over their PII and letting them disclose the information on a selective basis.
MATIC/USD Technical Analysis
Technical analysis of the H4 price chart of MATIC/USD reveals a strong bullish bias among moving averages and the MACD. Although, the momentum indicator points to some interest among sellers as well.
Polygon's price is sitting above the pivot point at $1.90 and it could be a smooth ride for buyers for a while. The next level to keep an eye on is the immediate resistance at $2.25 which buyers could struggle with as long as the uptrend continues.