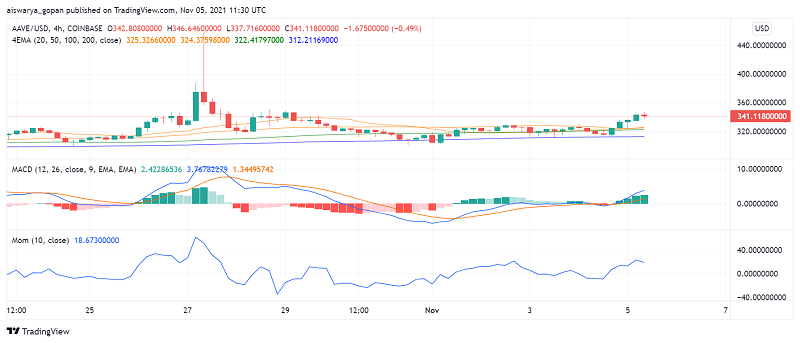 Aave (AAVE) Unveils Proposal For Upgrade Offering Cross-chain Capabilities
One of the biggest names in DeFi, Aave (AAVE) has unveiled a major update to its ecosystem – titled V3, in a new proposal seeking approval from its community. Aave V3 introduces cross-chain capabilities to the protocol, which will make it far more scalable than its current iteration, helping onboard more users and unlocking greater levels of liquidity. At the time of writing, AAVE/USD is trading around $341.11.
The proposed upgrade could also bring about higher efficiency, letting users extract the maximum borrowing power from their collateral. In addition, V3 could also implement an isolation mode which would make it less risky for Aave to introduce new assets on its platform by limiting exporsure and permitting borrowing up to only a specified debt ceiling. The upgrade would also implement more improvements to risk management processes on the protocol, such as risk caps, to offer further protection to users' assets.
Focusing on scalability, Aave V3 will also implement designs specific to L2 scaling solutions that will offer higher levels of reliability and better user experience overall. It will also boost engagement levels with the community, offering more incentives via a modular, well organized codebase to drive up community contribution.
The team of developers behind Aave have given serious consideration to feedback from the DeFi protocol's community on its current V2 iteration, looking into key areas of concern. While one of the biggest ones surround implementing cross-chain capabilities, the proposal for the next upgrade could also bring about more capital efficiency, giving users the option to optimize their assets supplied for yield generation and borrowing.
In addition, Aave Governance will become even more decentralized in V3 via delegating to teams or other individuals within the community with the introduction of new technological developments. V3 will also improve risk mitigation within the protocol's ecosystem, beyond the existing ones such as adjustment of borrowing power and maintenance margins.
AAVE/USD Technical Analysis
Technical analysis of the 4-hour price chart of AAVE/USD reveals a strong bullish bias among moving averages as well as the MACD. However, the momentum indicator suggests some selling interest as well.
Aave's price is sitting under the pivot point at $357.85, although the immediate support at $257.70 is doing a good job. We need to see some more buyers jump in at the moment to test the pivot point and cross it, confirming a bullish mood.