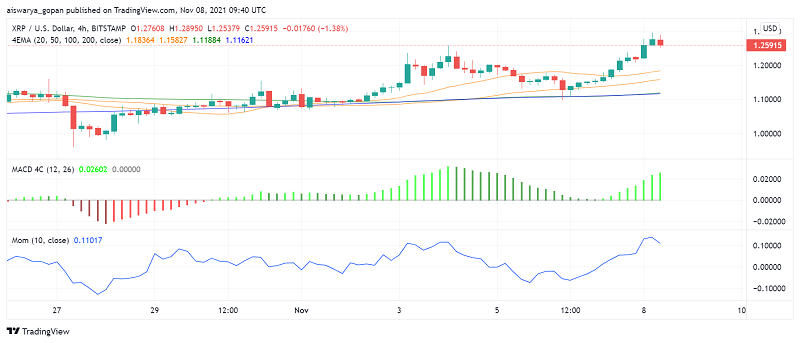 Ripple's XRP Sees Strong Bullish Action on NFT News
We're seeing strong bullish action in Ripple's XRP in early trading on Monday, with investors cheering news of the seventh largest cryptocurrency officially announcing interest in entering the hot NFT market. At the time of writing, XRP/USD is trading around $1.25.
Following Ripple's recent investment in NFT marketplace Mintable, the company has plans to merge the app with its XRP Ledger, giving creators a robust platform where they can create and sell their digital works in a decentralized and secure manner. The seriousness of exploring this avenue is further evident from Ripple announcing a $250 million Creator Fund with a focus to enable the development of NFT experiences.
Ripple's CTO David Schwartz recently discussed the company's plans at NFT NYC, focusing on creating carbon neutral NFTs and reducing the stigma around blockchain technologies for being energy intensive and harmful for the environment. He went on to elaborate that while Ethereum corners around 97% of the NFT space, its PoW consensus mechanism has high energy consumption making it expensive in the long run. On the other hand, XRP Ledger is not only truly decentralized but far more cost effective and versatile as well.
Another exciting development to look forward to which can support the price of XRP in the coming weeks is the launch of Wrapped XRP (WXRP). WXRP will allow investors to leverage the crypto within a DEX environment to benefit from tokenomics features and can drive more buying activity around the crypto.
No Progress on SEC vs. Ripple Case Yet
Meanwhile, on the legal front, senior executives at Ripple Labs have called on Congress to create more transparent regulations around cryptocurrencies, especially in the wake of increasing discussions about regulating stablecoins. In a recent tweet, CEO Brad Garlinghouse, notes, "There is a lot at stake here, which is why we need Congress to play a leading role in providing guidance and clarity for not just stablecoins as is recommended by the PWG [President's Working Group on Financial Markets] report, but crypto broadly ASAP."
While the lawsuit between Ripple and the SEC continues to weigh on investors, the XRP community is actively campaigning on social media to get leading crypto exchange Coinbase to relist the crypto on its platform. With the hashtag #RelistXRP, the XRP Army is trying to catch the attention of Coinbase and other leading exchanges to re-add Ripple's crypto on their platforms over strong belief that the lawsuit will go in the company's favor.
XRP/USD Technical Analysis
According to popular crypto analyst and trader who operates under the pseudonym Credible Crypto, XRP could be getting ready for a rally that could take it more than 300% higher. He drew similarities between the price action in Ripple's XRP with that of OriginTrail (TRAC).
On the 4-hour chart of XRP/USD, moving averages along with the MACD are exhibiting a strong bullish bias. Although, the momentum indicator points to some interest among sellers.
Ripple's cryptocurrency has crossed the pivot point at $1.18 but it looks like buyers are struggling to overcome the immediate resistance at $1.29. A break above this level opens the door to overtake the $1.30 mark until the second resistance at $1.37.