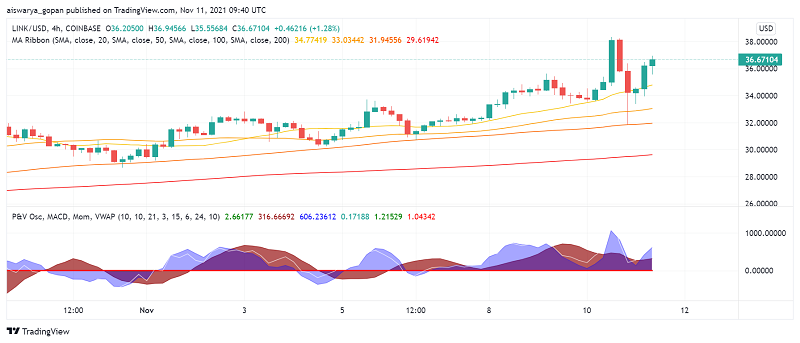 Chainlink (LINK) Getting Ready For a Bullish Breakout
Even as most altcoins trade in the red early on Thursday, Chainlink (LINK) is extending gains from the previous session when it soared higher by double digits on the back of rising adoption and other strong fundamentals. At the time of writing, LINK/USD is trading at around $36.68.
One of the biggest drivers of the bullish action is leading AMM on Solana, Saber, tapping Chainlink Price Feeds and letting developers on the high-speed blockchain build yield farms, lending platforms on its platform. Bringing Chainlink Price Feeds to Solana, one of the fastest growing blockchains in the market right now, is likely to keep the LINK token supported in the coming sessions.
Chainlink's TVS Soars to $75 Billion
Chainlink's widening network has caused the total value secured by its smart contracts to soar from around $7 billion at the end of 2020 to more than 10 times by $75 billion around one week ago. The decentralized oracle network provides on-chain, accurate real world data to leading blockchain networks and an increasing number of projects depend on its technology, from Price Feeds to VRF, for several use cases.
According to Chainlink's Co-founder, Sergey Nazarov, "Crossing $75 billion in total value secured makes the Chainlink network one of the most value securing forms of decentralized consensus on the planet. Without trusted price data to trigger smart contracts, it is impossible to build DeFi applications, and we do not think it is a coincidence that the rate at which Chainlink has been able to bring new market data onto blockchains has been the rate at which developers have been able to build exciting new DeFi apps."
Another exciting development that support the LINK token in the near term is its listing on popular trading app Public. One of the biggest competitors of Robinhood, Public announced the addition of Chainlink along with 20 other cryptocurrencies on its platform, giving its users the ability to trade these coins – a move that will further drive up investor interest in the oracle-based cryptocurrency.
LINK/USD Technical Analysis
According to popular crypto strategist and analyst who operates under the pseudonym Altcoin Sherpa, LINK could be headed for a rally once it breaks past the strong resistance level at $42. Based on his technical analysis, Chainlink's price could rally by around 23% once this happens.
On the H4 price chart of LINK/USD, moving averages along with MACD and the momentum indicator are exhibiting a strong bullish bias. This means we could expect more upside in this crypto pair in the near-term.
Chainlink's price is holding above the pivot point at $31.74 and has crossed two resistance levels at $34.32 and at $36.29. It looks like buyers are gearing up to give the third resistance level at $40.84 soon, so keep an eye on this level.
Cryptocurrencies were showing strong bullish pressure in the first two months of 2023, but the bullish momentum has faded
3 months ago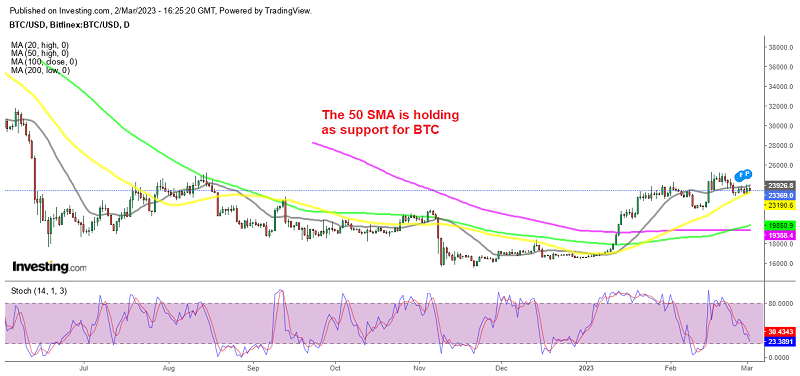 3 months ago