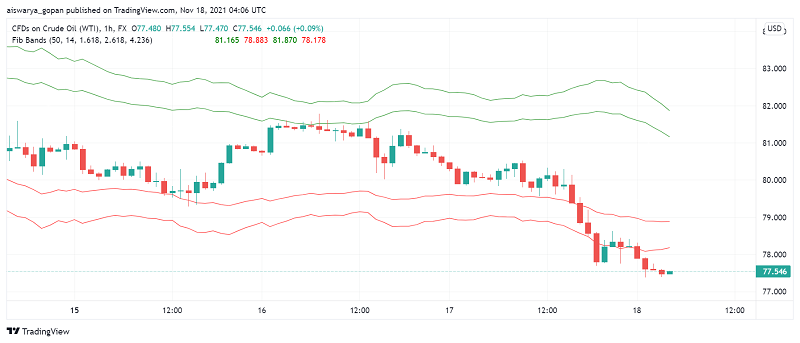 WTI Crude Oil Extends Losses as US Tries to Rope in Other Nations to Tap SPRs
WTI crude oil continues its descend on reports that not only is the US planning to tap into its strategic reserves but is also asking other key energy consumers, such as China, India and Japan, to follow suit in a bid to coordinate efforts in bringing down oil prices. At the time of writing, WTI crude oil is trading at around $77.54 per barrel.
According to an exclusive Reuters news report, the Biden administration has asked other leading economies to partner on releasing crude stockpiles to pump up oil supply and drive down prices of the commodity. The move also indicates a possible build-up of tensions between the US and OPEC after the leading oil producers' group failed to comply with President Joe Biden's request to ramp up crude production to bring down soaring energy costs. Rising commodity costs are posing a challenge to economies as they try to recover from the coronavirus crisis.
Crude oil prices are also sliding lower after the International Energy Agency (IEA) and the OPEC cautioned about possible oversupply in international markets as more countries, especially across Europe, impose lockdowns and restrictions to tackle the latest outbreak of COVID-19. Recently, the OPEC slashed oil demand forecasts for the current quarter on account of reigning uncertainties driven by the pandemic, hurting the sentiment among oil traders.
The bearish moves in WTI oil were limited following the release of the EIA report in the previous session which revealed a drawdown of 2.1 million barrels in crude stockpiles across the US. Economists had forecast a build-up of inventories by 1.4 million barrels instead for the previous week.
However, investors are closely monitoring the spike in COVID-19 infections across Europe and China for updates on further lockdowns and restrictions which could hurt oil demand. If more countries announce such measures, oil demand could decline further and exert downward pressure on oil prices in international markets in the short term.