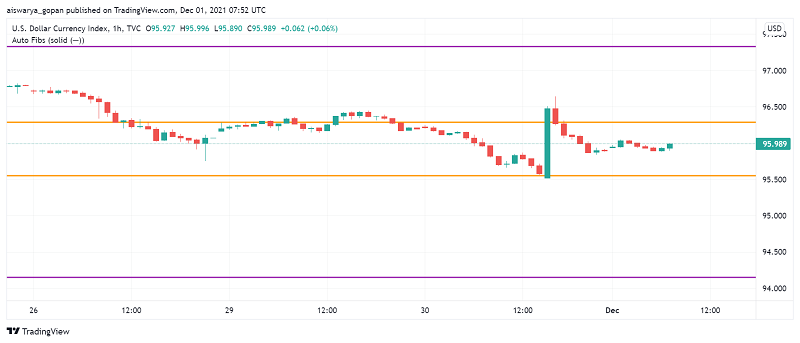 US Dollar Strengthens as Powell Talks of Speeding Up Monetary Stimulus Tapering
Leading commodity currencies AUD and NZD are trading under pressure against the US dollar after the Fed chair discussed the possibility of pulling back stimulus at a faster pace on account of rising inflation, even as global markets worried about the potential fallout from the Omicron variant of COVID-19. At the time of writing, the US dollar index DXY is trading at around 95.98.
The USD is enjoying quite the support from Powell's comments about inflationary pressures likely to stay until the mid of next year, extending beyond the central bank's initial projections of them being transitory. Powell also expressed cautious optimism about the US economy strengthening and an improvement in the labor market conditions. The greenback was in demand among investors after Powell confirmed that Fed policymakers would be looking into speeding up the tapering of monetary stimulus by a few months, cementing rising expectations of investors that the first rate hike post-pandemic could come sooner than previously planned.
Meanwhile, investors are moving away from riskier currencies and instruments and towards the safety of the US dollar and Japanese yen amid rising worries about the potential economic fallout from the latest Omicron variant. Markets are worried that the latest resurgence of cases in several countries could force more lockdowns and restrictions, impacting the ongoing global economic recovery.
This sentiment has kept risk-sensitive currency AUD bearish after Australia's Treasury yields on the three-year note slid lower. The greenback gains as a safe haven in times of raised uncertainty, keeping the currency well-bid, especially against the riskier commodity currencies.
The AUD has also come under pressure following the release of a disappointing GDP report which revealed a slowdown in economic growth from 9.6% in Q2 to 3.9% in Q3 due to restrictions imposed across New South Wales and Victoria during the period. This data has further cemented concerns that the latest variant could hamper economic growth and rebound not only in Australia but other economies as well.