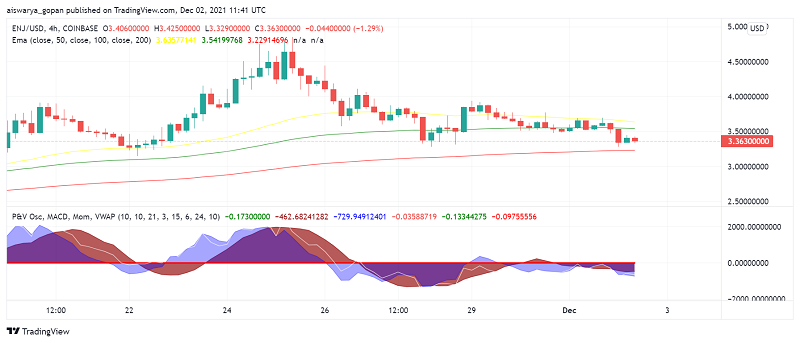 Can Latest Updates on Efinity Reverse The Bearish Mood in Enjin (ENJ)?
Enjin (ENJ) is making cautious moves but investors could look forward to some positive price action soon on the back of several partnerships to grow its ecosystem and support its participation in the first round of parachain auctions on Polkadot coming up soon. At the time of writing, ENJ/USD is trading at around $3.36.
More on Enjin's Efinity
The decentralized platform for NFTs unveiled more than 70 ecosystem partners who have confirmed their interest to work with Enjin towards developing the metaverse on Efinity – a decentralized, self-governed and self-sustaining blockchain exclusively for NFTs. Efinity will also boast of full interoperability features via Polkadot's Paratoken standard and will be developed by Enjin within the Efinity stack.
Known as a cross-chain NFT marketplace, Enjin will leverage the power of these partnerships to drive innovation in the Web3 space. The decentralized metaverse of Efinity will enjoy AR and VR capabilities from Enjin's partnerships with Hololoot and VRJam. Hololoot claims to be the world's first AR NFT generator, marketplace and metaverse, merging the latest innovations in the world of 3D modeling with NFTs to drive widespread adoption. VRJam, on the other hand, supports the creation of immersive content. Both dApps are powered by Enjin's infrastructure.
Meanwhile, BitBoy's Pluto Alliance will issue limited-edition collectibles for Efinity Crowdloan supporters – a campaign to crowdfund Enjin's efforts to make Efinity a Polkadot parachain. The campaign lets users stake their DOT holdings to earn rewards over the entire course of the parachain lease, 96 weeks. Users can participate vie leading crypto exchanges, directly via the Crowdloan page or on Polkadot's website, and even Nova Wallet.
Another interesting partnership announced recently is one between Enjin and Amasa. Amasa aims to drive mass adoption of Web3 platforms, letting users build micro-income streams to earn rewards while gaming, spending time and interacting with Web3 applications.
Enjin aims to bring gaming into the metaverse with its focus on P2E. In a recent podcast with CryptoPotate, Enjin's CTO, Witek Radomski, notes, "We want game developers who are experimenting with interesting ideas, anyone who wants to go into the metaverse, to have some support. A lot of the times, if someone has an interesting and experimental metaverse idea it might be difficult to get funded with traditional means."
ENJ/USD Technical Analysis
On the H4 chart of ENJ/USD, the larger moving averages exhibit a bullish bias. However, the smaller timeframe MAs along with leading technical indicators MACD and momentum are pointing to the presence of sellers in the market as well.
Enjin's price sits under the pivot point at $3.57 but well above the immediate support at $2.92. We need to see the entry of some more buyers for ENJ to cross the pivot point. If this happens, the price can continue higher past the $4 level until the immediate resistance at $4.77.
Cryptocurrencies were showing strong bullish pressure in the first two months of 2023, but the bullish momentum has faded
3 weeks ago