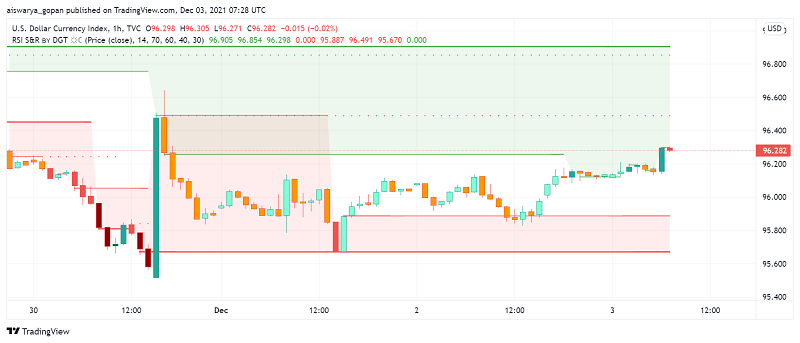 US Dollar Strong And Likely to Continue Bullish in Near Term
It's been a volatile week in the forex market, with the US dollar extending its gains over rising concerns about the latest COVID-19 variant Omicron even as the Fed talked about speeding up its process of tapering asset purchases and monetary stimulus. At the time of writing, the US dollar index DXY is trading at around 96.28.
During the previous session, forex market's volatility surged to the highest levels seen in nearly nine months as markets worried about the potential economic fallout from Omicron's spread. Several countries have brought back lockdowns and restrictions lately, while curtailing international travel, in response to the latest and highly contagious strain of COVID-19. This has raised fears of slowing down global economic recovery, heightening the risk averse mood and sending investors towards the safety of the greenback and away from other leading currencies.
The Euro has been suffering lately ever since Europe saw a resurgence in COVID-19 cases and several countries announced lockdowns and curbs again, even before the news of the Omicron variant. In addition, the ECB's plans to extends its dovish mood for longer has also dimmed the outlook for the common currency and driven more strength in the US dollar instead.
Meanwhile, commodity currencies like the AUD and NZD have been hurt by the risk-off mood in global financial markets caused by the pandemic fears once again. Both currencies are on track to post a 0.5% loss for the week so far even as traders asses the RBA's dovish mood against the Fed's interest in turning hawkish soon, further keeping AUD/USD bearish.
A recent Reuters poll forecasts more strong performance in the US dollar in the short term, powered by rising expectations for the Fed to advance its rate hike plans. So far this year, the DXY has already registered 7% gains and could close 2021 on a high note, especially after Fed Chair Powell expressed confidence in the US's economic recovery recently.
However, this bullishness as well as the Omicron variant could spell trouble for emerging market currencies that are more in favor during a risk-on mood among investors. A disappointing economic performance from China as well as interest rate differentials could also keep them under pressure against the greenback into 2022.
The focus today shifts to the release of the non-farm payrolls data from the US later in the day. According to a recent Reuters poll, 550k new jobs were added in the US economy during November, offering more reasons for investors to remain confident about the most powerful economy in the world and its currency.