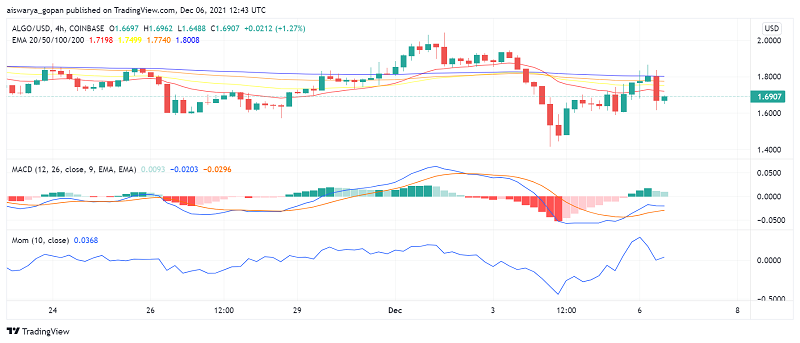 Bearish Mood in Crypto Market Catches Up With Algorand (ALGO)
Algorand (ALGO) is one among the few cryptos that traded in the green despite the sharp sell-offs seen in the wider crypto sector since December 4, with traders continuing to cheer the news of Borderless Capital launching a $500 million fund last week to support the development of its ecosystem. At the time of writing, ALGO/USD is trading at around $1.69.
The second edition of the ALGO fund by the venture capital firm will focus on fostering the development of dApps, liquidity mining, lending, borrowing, yield farming and even NFTs on the Algorand blockchain. A significant investment such as this can boost innovation and encourage more developers to create decentralized applications on the blockchain, bringing in more users and driving up the on-chain activity on the network.
There are several reasons to be bullish on Algorand, most of all its potential for real world applications beyond the world of DeFi, NFTs and as a digital currency enabling faster and cheaper payments. Where the blockchain, which several experts consider as a potential Ethereum killer, truly stands out is in being one of the first carbon-negative blockchain networks.
Fundamentals Could Bring Bulls Back to Algorand
In a recent interview with CNBC, founder of global investment firm Skybridge Capital, discussed why his firm launched a $100 million partnership with the blockchain. According to him, The Skybridge research department thinks that Algorand actually has the opportunity to potentially flip Ethereum: it's faster, [has] lower transaction charges. So something like Algorand is something we're putting a lot of money and resources in." He also went on to liken the development of the blockchain's community into something on the lines of Google before it took off.
In terms of adoption, the ALGO token could find some support from the city of Miami using the Algorand blockchain to build a decentralized indoor and outdoor air quality monitoring network. PlanetWatch, the firm providing the infrastructure of IoT-enabled third-party compacy air quality monitors throughout the city, will leverage the blockchain to transcribe the data in a tamper-proof and transparent manner.
We could see higher interest in the blockchain among developers soon, after blockchain developer tools company Decentology added Algorand to its Hyperverse last week. Hyperverse is an open, decentralized marketplace for composable blockchain smart contracts, making dApp development faster, easier and more affordable.
ALGO/USD Technical Analysis
On the H4 price chart of ALGO/USD, moving averages are painting a bearish picture among investors at the moment. Although, popular technical indicators MACD and momentum suggest the existence of buyers in the market as well.
Algorand's price has slid under the pivot point at $1.73 but is well above the immediate support at $1.43. We can expect ALGO to slide lower if selling pressure builds up, so keep an eye out for price action to the downside.