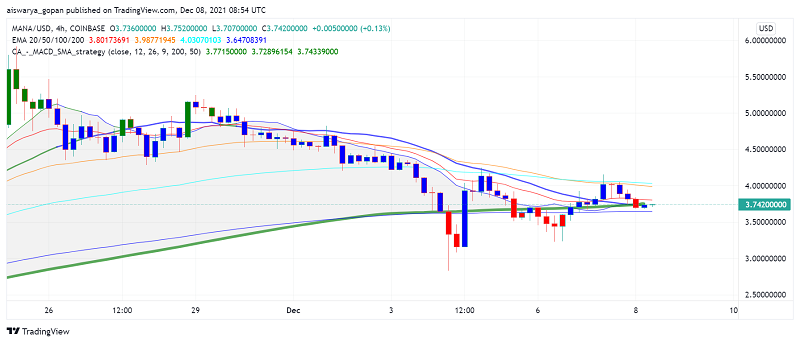 Decentraland (MANA) Sees Rising Demand: Where's The Uptrend?
The demand for the metaverse is soaring and keeping Decentraland (MANA) in favor among investors, despite its present weak price action owing to the bearish mood towards the wider crypto sector. At the time of writing, MANA/USD is trading around $3.74.
According to data from NonFungible.com, total NFT sales during the week to December 5 exceeded $292 million and Decentraland ranked as the fifth most selling NFT collection during the period. Registering average sales upwards of $19,000, the metaverse-focused blockchain enjoyed a 7-day sales volume of $6.6 million and came in second after The Sandbox.
What's interesting to note here is that although The Sandbox enjoyed a total sales volume of $70.5 million over the week, individual plots of virtual land are more expensive on Decentraland than on the market leader's ecosystem. The top 10 sales of virtual land were all on Decentraland, leading with the most expensive one which went for over $750,000.
Decentraland's MANA Enjoys Solid Gains as Investment
But it's not just retail investors and companies pouring money to buy into the metaverse. Leading digital asset management firm Grayscale's Decentraland Trust enjoys an AUM exceeding $71 million, giving institutional investors a return of over 1,400% since its inception less than a year ago. As one of the first securities dedicated to investing in MANA, the fund has enjoyed returns of over 330% over the past three months alone, taking off after Facebook announced its decision to rebrand to Meta.
According to data from CryptoRank.io, Decentraland's native token MANA has given back YTD returns of more than 4,600%, experiencing stellar growth especially over the past three months. The prospects for MANA look bright into the coming year, especially as more brands try to enter the metaverse and lap up parcels of virtual land. Decentraland has far more limited land to offer, with only 90,000 parcels available for sale in total, making it far more valuable than many other metaverse-based cryptos in the market at present.
MANA/USD Technical Analysis
Taking a look at the H4 price chart of MANA/USD, we find a bearish bias among almost all moving averages as well as the momentum indicator. Although, the 200 EMA and the MACD are revealing some presence of buyers in the market too.
Decentraland's price is well under the pivot point at $3.72 and needs a sustained push by buyers to take it past this level. However, the immediate support at $2.60 is quite some distance away, so let's watch the price action closer to the pivot point in the near term.
Cryptocurrencies were showing strong bullish pressure in the first two months of 2023, but the bullish momentum has faded
2 weeks ago