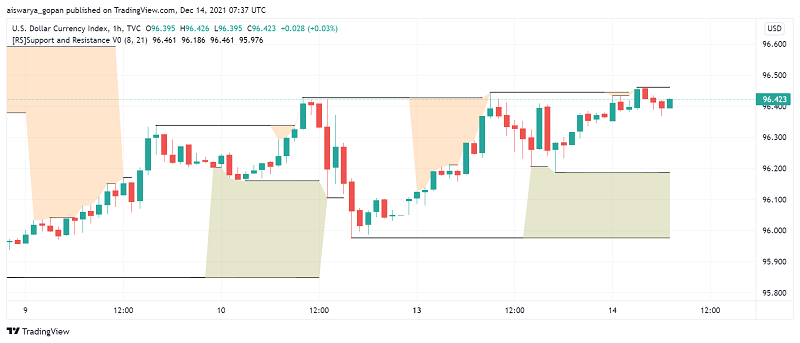 US Dollar Strong Ahead of Last FOMC of 2021
Early on Tuesday, the US dollar is holding close to the highest levels seen since one week as investors eagerly await hawkish clues from the Fed on monetary tightening and a possible timeline for the first rate hike since the pandemic. At the time of writing, the US dollar index DXY is trading at around 96.42.
Later in the day, policymakers of the US central bank sit down to discuss speeding up the tapering of monetary stimulus measures against the backdrop of a strong rebound in the US economy and soaring inflation. However, they will also need to consider the potential impact of the latest Omicron variant on economic recovery.
Money markets are anticipating that the Fed could announce at least one rate hike before H1 2022, followed by another before the end of next year. The last FOMC of 2021 could shed light on when the Fed plans to wind down its asset purchase programs and other stimulus measures even as it gears up to increase interest rates to offset the surge in inflation.
The US dollar could see some bullish moves tomorrow once the FOMC concludes and the Fed policymakers offer hawkish clues. However, it could come under some pressure later in the week if the ECB follows suit and comes out sounding hawkish at its policy meeting.
While the Euro trades mostly steady as investors wait to hear from the ECB, GBP/USD has come under pressure after the UK confirmed its first death due to the Omicron variant. This comes shortly after the British government brought back restrictions to contain the spread of infections and cautioned the public of a surge in cases due to the highly contagious variant of COVID-19.
The FED kept interest rates on hold yesterday, but the USD rallied on more hikes to come and higher-for-longer policy
6 months ago
The FED is expected to hold interest rates unchanged at 5.25% today, but the rhetoric will be more important
6 months ago