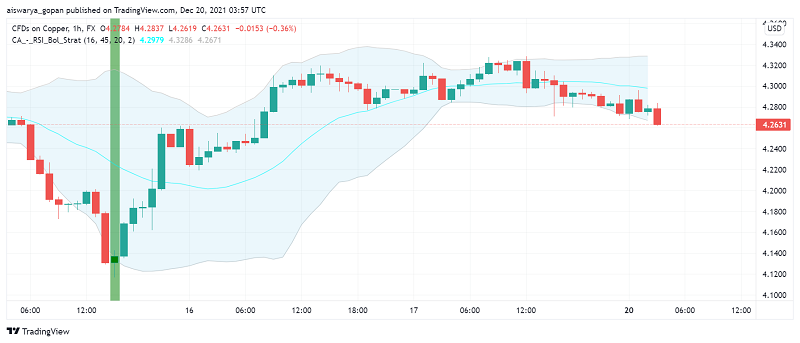 Copper Declines as Market Sentiment Takes a Hit: Omicron Worries Weigh
Copper is on a downslide early on Monday amid a deterioration in market sentiment as Omicron infections continue to climb higher across key economies, causing governments to bring back tighter restrictions which could potentially derail economic recovery. At the time of writing, COPPER is trading at around $4.26.
The commodity turned bearish over news reports that the Netherlands has imposed a fresh lockdown even as other European countries plan similar moves and tighter curbs ahead of the upcoming holiday season. A continued uptick in the number of fresh Omicron cases across the region has forced governments to bring back restrictions, dimming the economic outlook for the Eurozone.
However, losses in copper were limited on account of a decline in inventories being reported. On-warrant LME stocks of the industrial metal fell to 80,550 tons while the premium for LME cash copper over the three-month contract soared to a two week high. Even the Shanghai Futures Exchange warehouse reported a drop in copper inventories, offering some support to prices.
The overall market sentiment has taken a hit, impacting the risk sensitive commodity, after equities and oil prices are registered losses earlier in the Asian session today. Investors are worried that bringing back lockdowns and restrictions across Europe can have a spillover effect and weigh on the global economy as well.
Copper was also under pressure on the back of a strengthening in the US dollar, which shares a negative correlation with the commodity. A stronger greenback makes the industrial more expensive to purchase for holders of other currencies, impacting its demand in international markets.