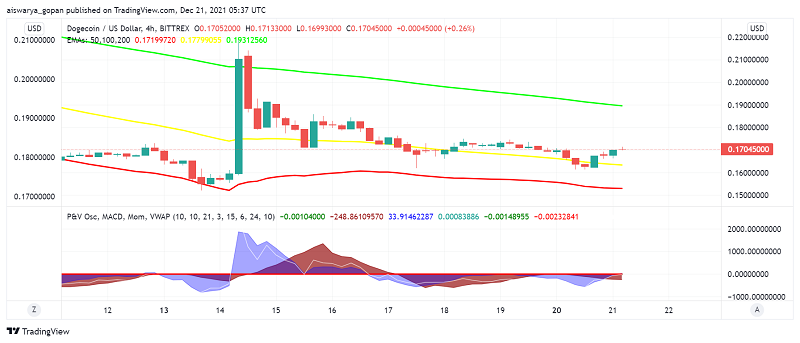 Can Dogecoin (DOGE) Cross The Pivot Point on Latest Developments?
Dogecoin (DOGE) is trading mostly steady into Tuesday, finding support from interesting developments out of India – a key market contributing several retail investors in the most popular memecoin. At the time of writing, DOGE/USD is trading at around $0.17.
Ever since self-styled 'Dogefather' and Tesla CEO Elon Musk announced that his company would start accepting payments in DOGE for merchandise, the meme token has had a resurgence of sorts, with more buyers getting back into the game. However, the overall bearish mood in the crypto market continues to weigh on the sentiment, keeping investors cautious and gains limited in the cryptocurrency.
Good news coming in from India can also offer support to the leading memecoin, which is one of the most popularly traded cryptos in this market. According to Google Trends, how to buy Dogecoin in India was among the top 10 most searched phrases in India, ranking sixth overall and first among crypto-related searches, outranking 'how to invest in Bitcoin'. Latest news reports suggest that the Indian government may defer the proposed Cryptocurrency Bill's presentation and discussion at the winter session in the parliament, offering some relief to crypto traders and investors in the country.
Whale Activity in DOGE Rises
Notwithstanding the sluggish mood, whales or large holders remain optimistic about the outlook for the coin and the overall market as well, using the ongoing dip to stock up on Dogecoin. Since Musk's announcement last week, activity of whales or large holders in DOGE has been steadily climbing higher, as per data from IntoTheBlock. Last week saw a whale transfer over $926 million worth of Dogecoin from a single wallet address to separate addresses. What's especially interesting is that the transfer of such a large sum resulted in the user paying a transaction fee of merely $0.7328 – 4.49 DOGE, illustrating Musk's stance on the memecoin being an excellent option for conducting digital transactions.
NFT Dogehub Offers NFTs and Metaverse Products For Dogecoin Holders
In addition to increased whale activity, DOGE could find some support from the release of NFT Dogehub – a Dogecoin marketplace for NFTs and metaverse products. Created by AppSwarm, the platform offers an NFT marketplace for Dogecoin holders to purchase NFTs and other metaverse products, including virtual worlds, collectibles, gaming products, digital art, virtual real estate and music.
The platform will offer a gateway for DOGE holders to enter the metaverse, allowing them a sneak peek into making purchases in the memecoin. The NFTs and other digital collectibles bought on NFT Dogehub can also be traded or resold on other secondary marketplaces.
DOGE/USD Technical Analysis
on the H4 chart of DOGE/USD, we find a bullish bias among the smallest moving averages as well as leading technical indicators MACD and momentum. However, the 50 EMA, 100 EMA and 200 EMA suggest some bearish pressure weighing on DOGE as well.
Dogecoin's price holds under the pivot point at $0.18 but is well above the immediate support at $0.14. We need to see some more buying pressure build up for a test of the pivot point, so let's keep an eye on the price action around this level for now.