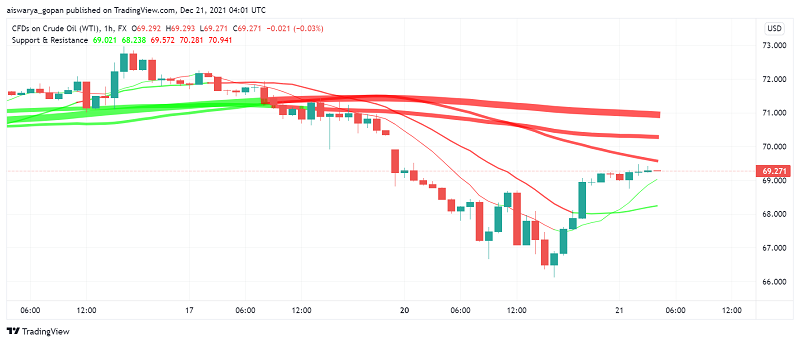 WTI Crude Oil Attempts a Climb Higher But Omicron Fears Persist
WTI crude oil prices are attempting a weak recovery but markets remain on edge over uncertainties about the potential impact of the Omicron variant on the global economy and global oil demand in the near term. At the time of writing, WTI crude oil is trading at around $69.27 per barrel.
Earlier in the day, analysts at JBC Energy forecast a high likelihood for the UK to tighten curbs after Boxing Day, 26 December, as the nation struggles to contain the rampant rise in COVID-19 infections. The doubling time of cases has sped up to 1.5-3 days not only in the UK but also across the US and Europe, raising concerns that more restrictions could be put in place which could dent the demand for crude oil.
The Netherlands went into lockdown mode for the fourth time since the beginning of the pandemic last year even as other parts of Europe mull tighter restrictions around the holiday season. Meanwhile, British PM Boris Johnson has also alluded to imposing more restrictions to contain the spread of Omicron cases.
The sentiment among oil traders received a bit of support after Moderna stated that a booster shot of its COVID-19 vaccine appeared to offer protection against the latest variant of the virus. This has helped ease worries about the pandemic slightly, and is keeping the commodity bid for now.
Crude oil also received some support from reports that OPEC and its allies' compliance with agreed cuts to production rose from 116% in October to 117% in November. This reveals that oil supply in international markets remains tighter than what was initially proposed by the leading oil producing nations of the world.