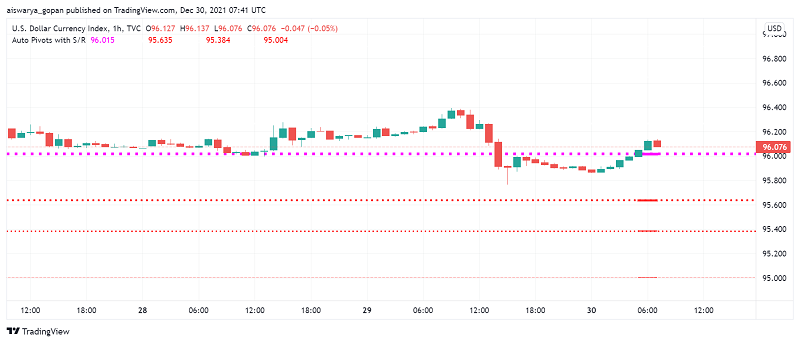 US Dollar Displays Signs of Weakness as Risk Appetite Improves, Equities Soar
Early on Thursday, the US dollar is trading mostly rangebound but displaying signs of weakness amid thin liquidity in the global forex market towards the end of the year. At the time of writing, the US dollar index DXY is trading around 96.07.
The weakness in the greenback could be attributed to a return of risk appetite in global financial markets as fears about the potential economic impact of the Omicron variant ease. This sentiment has driven investors away from the safety of the US dollar and towards riskier instruments like equities, which have hit record highs in the US.
During the previous session, EUR/USD strengthened by 0.35% while GBP/USD has gained around 0.44% of its value during overnight trading. The strengthening of the Euro and the Sterling have exerted further downward pressure on the dollar index, sending it below the key 96 level, although it has reclaimed this level since then.
The US dollar could also be displaying signs of weakness amid profit taking by short term traders in times of low volatility in the market. Most traders are keeping out of the FX market as they are away on holiday as 2021 draws to a close.
Losses in the reserve currency, however, have been limited on account of a strengthening in US Treasury yields during the previous session. The benchmark 10-year US Treasury yields surged to 1.56% – a one-month high, although they have eased slightly lower since then.