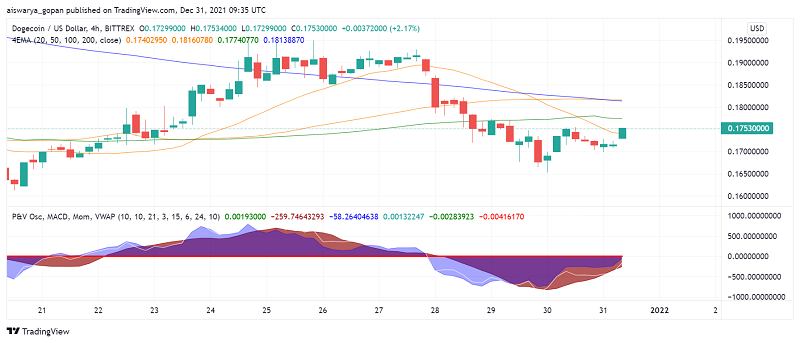 Dogecoin (DOGE) Holds Steady: Bearish Market Offsets Support From Fundamentals
Dogecoin (DOGE) is trading choppy early on Friday, remaining under pressure amid the bearish mood afflicting the leading coins, Bitcoin and Ethereum, which is keeping buyers away from the overall crypto market lately. At the time of writing, DOGE/USD is trading at around $0.175.
As we come to the close of 2021, the year of the DOGE, there is some good news in store which could potentially offer some support to the leading memecoin in the near term. According to Reddit's recap for the year, cryptocurrencies were the most viewed topic on its platform and Dogecoin took the lead as the most popular subreddit within the crypto category.
Dogecoin overtook not only market leader Bitcoin's subreddit in terms of number of views but also ranked above another popular subreddit for investors r/superstonk – one of the leading subreddits for discussing trading ideas in the stock and crypto markets. This latest data from Reddit indicates just how popular the cryptocurrency which originally started as a joke went on to become in 2021, being taken more seriously among investors and going on to become one of the top 15 cryptocurrencies by market cap.
Musk's Impact on Dogecoin
Earlier this week, DOGE received more praise from its favorite and most prominent promoter, 'Dogefather' Elon Musk. In a podcast with Lex Fridman, the Tesla CEO once again talked about how it has a far higher transaction volume capability than Bitcoin, despite it tracing its origins to a joke.
Musk has had a significant influence in keeping DOGE supported through the year even as he drove much volatility through the overall market as well. Earlier this year, digital currencies experienced a flash crash when Tesla stopped accepting payments in Bitcoin citing environmental concerns as Bitcoin mining is a highly energy intensive process going against the brand's commitment towards a greener earth.
On the other hand, more recently, he gave Dogecoin quite a boost when he announced that Tesla would soon start accepting DOGE as a payment method for some merchandise. Musk has also been at the forefront of urging the team of developers behind the popular memecoin to roll out changes to its ecosystem which will make it far more efficient to use for digital transactions.
DOGE/USD Technical Analysis
On the 4-hour chart of DOGE/USD, most of the moving averages are suggesting a bearish bias. However, the smaller timeframe MAs – 10 EMA and 20 EMA, along with popular technical indicators MACD and momentum are pointing to the presence of buyers in the market too.
Dogecoin's price is holding under the pivot point at $0.182 but is above the immediate resistance at $0.169. We need to see if this support can survive as an uptick of sellers can see DOGE test this key level.