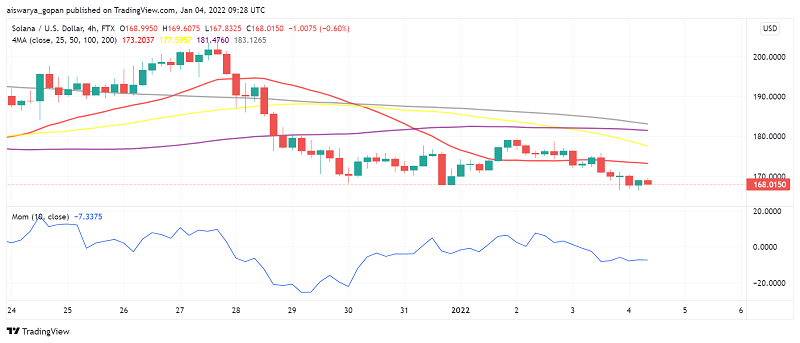 Solana (SOL) Trades Bearish: Will it Test Support Soon?
Solana (SOL) is still on a bearish track in early trading on Tuesday as Bitcoin and Ethereum continue to trade under key levels and keep buyers away from the overall market into one more session. At the time of writing, SOL/USD is trading at around $168.
Solana: Key Developments to Look Forward to in 2022
However, the downbeat sentiment in the market has failed to take away any enthusiasm analysts have for the coin in 2022, with most of them offering extremely bullish forecasts for the fastest blockchain network in the market. With its full mainnet scheduled for launch this year, there is no reason to doubt that SOL could touch new ATHs.
In addition to adding more projects to its ecosystem, the developers behind Solana are also looking at ways to bring down gas fees on the network further and make it more scalable. We can also expect the blockchain's smart contracts receive an upgrade in the coming months even as more NFT projects launch on the network, further driving the SOL price higher.
SOL Supported by More Fundamentals
Meanwhile, Solana's native wallet Phantom has seen phenomenal growth through the past few months, with its user base rising from 40,000 in April 2021 to 1.8 million by the end of 2021. The figures were shared by Phantom's official Twitter account, which also revealed that over $16 billion worth of SOL was staked by its users while the swap volume exceeded $1.37 billion.
At present, Solana ranks fifth in terms of DeFi TVL as per data on Defi Llama, hosting 45 protocols which have a total value locked exceeding $11.5 billion. With more DeFi projects coming up soon thanks to its exemplary features, the blockchain could soon climb up in the rankings, further helping the value of SOL rise.
SOL/USD Technical Analysis
According to the co-host of Altcoin Daily, Austin Arnold, Solana's bullish momentum is likely to continue in the coming year powered by rising adoption of its dApps among users. Chief product officer at Coinbase also shares a similar bullish prediction about the high speed blockchain, expecting it to improve its offerings significantly and power its growth.
Technical analysis of the H4 chart of SOL/USD reveals a strong bearish bias among moving averages as well as the MACD. However, the momentum indicator shows some interest among buyers too.
Solana's price remains well below the pivot point at $182.97 but is managing to hold above the immediate support at $161.06. A build-up of selling pressure, however, can see the support being tested soon, so let's keep an eye on it for now.
Cryptocurrencies were showing strong bullish pressure in the first two months of 2023, but the bullish momentum has faded
2 weeks ago