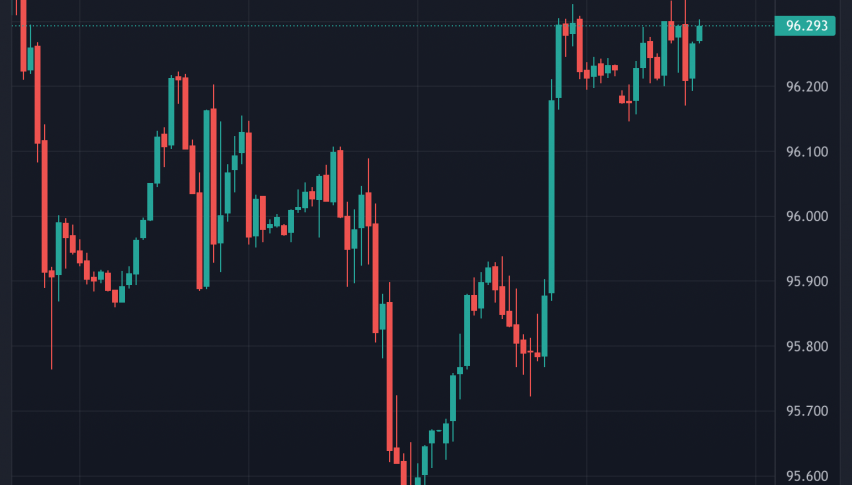 US Dollar Supported by Rising Bets For Early Rate Hike by Fed
On Tuesday, the US dollar has surged to the highest levels seen since one month against safe haven currency Japanese yen as investors turn increasingly optimistic for the Fed to hike interest rates soon. At the time of writing, the US dollar index DXY is trading at around 96.31.
Investor bets for a faster rate hike have helped US Treasury yields soar to the highest levels seen since late November. Money markets have fully priced in hopes for the US central bank to announce its first post-pandemic rate hike by as soon as May 2022, followed by another two such hikes before the end of this year.
This sentiment helped the US dollar index surge close to the highest levels seen in a week against other major currencies. Analysts maintain that the greenback could continue to enjoy support over the Fed turning hawkish sooner than other major central banks, despite the uptick in COVID-19 infections worldwide due to the Omicron variant.
The resurgence in infections does dampen some optimism in global financial markets but investors remain optimistic that there would be no need for fresh lockdowns and restrictions as it is not as severe as the previous Delta variant. However, fears that the latest variant could derail global economic recovery is also keeping the safe haven appeal of the US dollar supported.
Meanwhile, EUR/USD has bounced back above the 1.13 level after sliding under it in overnight trading. Leading commodity currency AUD, however, continues to trade near the lowest levels seen in two weeks.