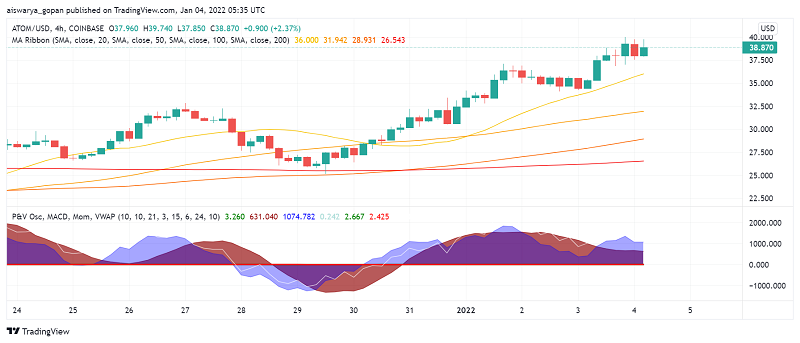 What's to Expect From Cosmos (ATOM) in 2022: A Look Ahead
Cosmos (ATOM) is among the few cryptocurrencies trading in the green as a brand new year gets underway, and there are several reasons to keep an eye on it in 2022. At the time of writing, ATOM/USD is trading at around $38.87 after gaining nearly 40% over the last week.
The 'internet of blockchains' is likely to be in the spotlight this year over its efforts to usher in a new era of interoperability among different blockchain ecosystems. As the industry evolves and gains mainstream acceptance, the concept of interoperability to connect different networks is going to become even more essential towards ensuring scalability and supporting its growth in the long term.
Before the end of the previous year, the team behind Cosmos gave us a sneak peek into what lies in store for 2022, including a major network upgrade planned for every quarter of the year.
One of the most exciting developments that will propel investor interest in the ATOM token will be Interchain Security. The shared security service will allow Cosmos chains to lease security to each other to bootstrap their economies, letting validators and delegators on the larger chains earn higher rewards in return.
Interchain Accounts coming up this quarter on the Cosmos Hub will boost the ecosystem's appeal in the DeFi space, letting blockchains in the ecosystem control accounts on other networks as well, instead of initiating interchain token transfers. While the IBC protocol allows for movement of tokens between different blockchain networks at present, Interchain Accounts will take interoperability and composability to the next level, boosting DeFi.
Cosmos will also roll out its Liquid Staking offering by February this year, letting ATOM holders instantly convert their bonded holdings into transferrable tokens for use within liquidity pools and other activities. This will also make Cosmos an attractive ecosystem from a DeFi perspective, letting its token holders generate more value from ATOM even as they earn rewards from staking.
ATOM/USD Technical Analysis
Popular crypto analyst Michaël van de Poppe forecasts a bullish prediction for Cosmos (ATOM) in 2022. He anticipates that the ATOM price could surge to a high of $60 and even $100 this year.
On the 4-hour chart of ATOM/USD, moving averages and leading technical indicators MACD and momentum are exhibiting a strong bullish bias. Cosmos is trading above the pivot point at $32.59 for now.
It looks like buyers are getting ready to test the immediate resistance at $40.03 soon. A break past this level can see ATOM surging into the 40s, until buyers face the second resistance at $44.53.
Cryptocurrencies were showing strong bullish pressure in the first two months of 2023, but the bullish momentum has faded
7 months ago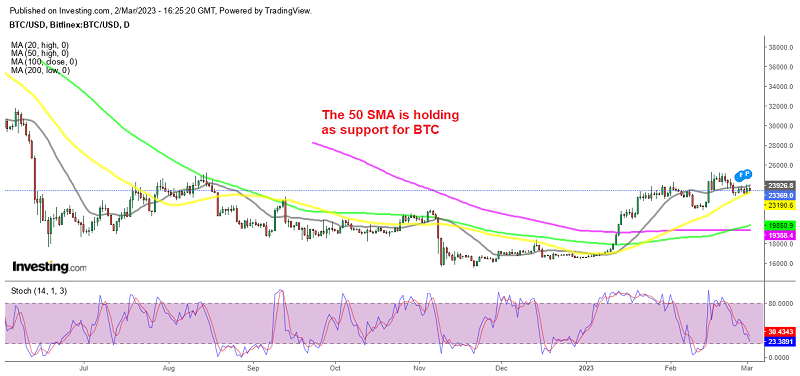 7 months ago