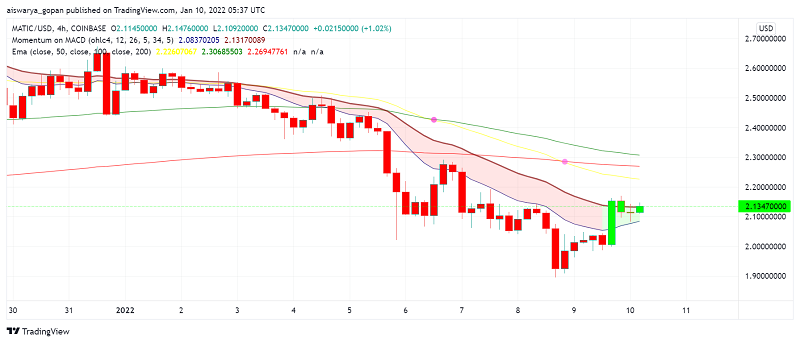 Polygon (MATIC) Makes Slight Gains in a Bear Market – Good Time to Buy?
Early on Monday, Polygon (MATIC) is on the rise after posting some bullish moves that took its price past the key $2 level as it enjoys rising attention among developers against the backdrop of soaring gas fees on Ethereum lately. At the time of writing, MATIC/USD is trading at around $2.13, up by almost 6% in the past 24 hours.
While Polygon's ecosystem has been enjoying considerable growth in recent weeks, especially with leading DeFi protocol Uniswap's integration, it has been facing some issues from a popular game Sunflower Farmers that is causing some decline in transaction speeds and sending its gas fees higher in recent sessions. Several users have raised the possibility of bots being used to earn resources in the P2E game, causing an unintended DDoS attack on the Polygon infrastructure and causing sluggishness in its network as a result. According to some estimates, the impact of Sunflower Farmers' bots could be higher than what Ethereum witnessed due to Cryptokitties some years back.
Late last week, the developers behind the PoS network and Ethereum's leading scaling solution offered some clarification regarding the issue via the official Twitter handle. They admitted that the network has seen high levels of user activity due to bots farming on DeFi apps within the ecosystem. Despite this, however, gas fees remain far lower than the Layer 1 blockchain, ranging between $0.10 and $0.50.
The developers also confirmed that they are working on several solutions that can improve the capabilities of the Polygon network vastly, starting with the EIP-1559 upgrade. In addition, Polygon PoS v3 will also usher in major architecture improvements while ZK-based solutions the company is investing in will boost the network's throughput.
In Q1 2022, the MATIC token can see some bullishness when Opera offers in-browser access to Polygon's dApps to its users. In the following quarters, users can also look forward to the release of the Hermez and Miden public testnets this year.
MATIC/USD Technical Analysis
As per popular crypto strategist and analyst Jason Pizzino, Polygon's bull trend remains intact even though it has slipped from its ATH levels. The lower price action could be a good time to enter new buy positions in MATIC.
On the 4-hour chart of MATIC/USD, the larger timeframe moving averages are exhibiting a bearish bias. However, the smaller MAs along with leading technical indicators MACD and momentum suggest some interest among buyers in the market.
Polygon's price holds just under the pivot point at $2.18 although it is well above the immediate support at $1.82. A build-up in buying pressure can see MATIC cross the pivot point and head on higher in the near term.