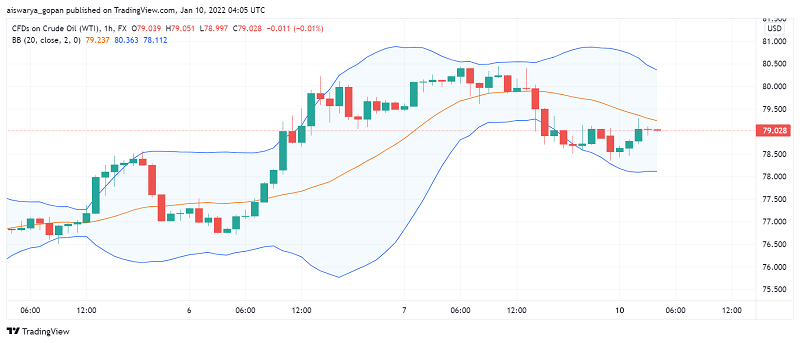 WTI Crude Oil Extends Declines as Traders Worry About Rise in COVID-19 Infections Worldwide
At the start of a fresh trading week, WTI crude oil is extending its decline from the previous session as investors worry about several countries worldwide continuing to report an uptick in fresh COVID-19 cases, increasing the likelihood of fresh restrictions and curbs that could weaken oil demand. At the time of writing, WTI crude oil is trading at around $79.02 per barrel.
The commodity took a further hit amid a decline in the number of new jobs added to the US economy during December when the Omicron variant started spreading across the country and most parts of the world. This has raised concerns that the latest spike in infections could derail progress made in economic recovery, further hurting the prospects of crude oil.
According to latest estimates, COVID-19 has already infected almost 305 million people worldwide and resulted in over 5.8 million confirmed deaths so far. The most recently discovered variant of the virus, Omicron, is known to be highly contagious, causing a sharp uptick in the number of infections and there is not much known about its severity, causing turmoil in the financial markets and affecting the outlook for the commodity for now.
Crude oil prices came under further pressure as oil and natural gas rig count across the US climbed higher during the first week of 2022. The possibility of higher supply at a time when the demand side faces uncertainties is also keeping WTI oil's prices lower.
Meanwhile, losses in oil were stemmed on account of supply disruption in other parts of the world, including Kazakhstan and Libya. While Kazakhstan is experiencing public protests against soaring oil prices causing disruption in oil production, crude output from Libya – a leading oil producer, has fallen from a high of 1.3 million bpd to 729k bpd in 2021 on account of pipeline maintenance work.