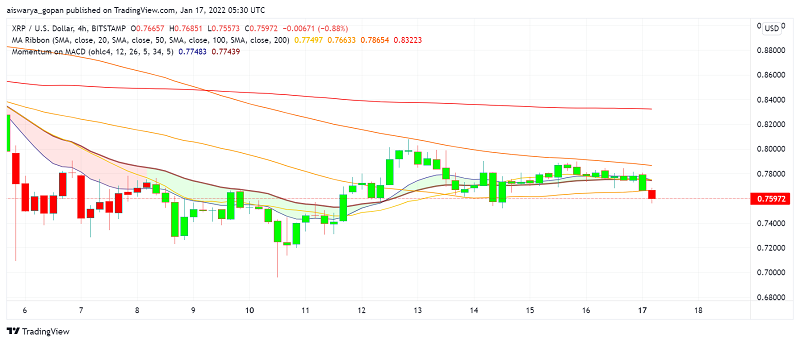 Can Ripple's XRP Hold On And Add More Gains Over Lawsuit Developments?
Ripple's XRP is on somewhat of an uptrend since late last week, supported by promising developments in the SEC lawsuit that gives investors hope for a victory in the company's favor. At the time of writing, XRP/USD is trading at around $0.759.
Currently sitting in the eighth position in terms of market capitalization, Ripple's cryptocurrency has seen weak price action for several weeks amid uncertainties on which direction the lawsuit could head. Last week, some volatility was driven in the coin over news sources reporting a one month delay in the lawsuit owing to the spread of the Omicron variant.
On 10 January, Ripple's legal team filed its response to SEC's Notice of Supplemental Authority regarding the agency's motion to strike the fair notice defense. In the filing, lawyers argue that Ripple's case is unlike that of Fife, insisting that Ripple should be allowed to present its legally cognizable defense in full record.
In an optimistic development since then, Judge Sarah Netburn ruled last Thursday that the SEC must surrender the email containing the full draft of Hinman's speech on Ethereum's security status to Ripple. In addition, the agency must also hand over notes from some meetings between its employees and third parties that are not Ripple.
Hinman's speech is a key element of the lawsuit filed against the SEC alleging that Ripple's XRP is unregistered security. The former SEC executive had previously maintained that this logic did not apply to ETH despite the fact that the Ethereum Foundation had sold 60 million ether to raise funds at the beginning.
XRP/USD Technical Analysis
According to a popular crypto analyst who goes by the pseudonym Credible Crypto, XRP could be getting ready to surge. He bases this forecast on technical analysis which indicates that Ripple's cryptocurrency has held up strong through the correction phase seen in the wider crypto sector.
Technical analysis of the H4 price chart reveals a strong bearish bias among moving averages and leading technical indicators MACD and momentum. It looks like the gains could be under threat amid possible profit taking by investors.
Ripple's XRP is holding very close to the pivot point at $0.76 and could fall right under it if selling pressure builds up. Keep an eye on the immediate support at $0.71 if sellers manage to break down the PP.